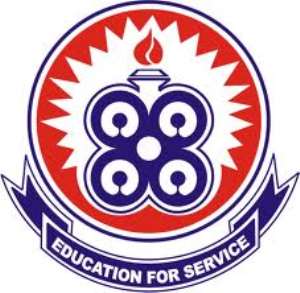 Dear Professor Anthony Afful Broni.....
You are on record and this time around on tape to have insisted that, certain individuals who were unjustifiably dismissed as senior officers of the University of Education, Winneba won't come back to continue their work.
5th May,2019 was the day you decided to use the altar to make this pronouncement. You also used the same day to describe certain individuals as "thieves" because, when they were in office, they were asked to step aside in respect of certain offenses they were alleged to have committed.
If this analogy is something to go by, then it will be fair on my part to also describe you as same for squandering fifty-seven billion old Ghana cedi on a fictitious item of expenditure which I have written to the Auditor General to probe and disallow.
Same dishonest and vindictive Prof.Anthony Afful Broni on 26th of April,2019 prayed for lasting peace in UEW and called on stakeholders to unite and chart a reconciliatory path. It is shocking that he is preaching vice to inflame passion to ignite the mess he caused which forced the school to close down. If this criminally minded priest is not a threat to peacebuilding, then who else is he?
Such a character shouldn't have been in cassock in the first place. There ought to be a sting investigation into how he managed to become a Catholic Priest. A bad omen in a cassock is more dangerous than anything one can think of.
When I listened to the things you said on that day, I was indeed scandalized. I never thought such a statement could come from you but as usual, you did the obvious. Let me quote one profound thing I realised you took inspirations from to make those regrettable comments. In your words, you said," It has come to a point in time we must all call a spade a spade".
If it is so, then I have every right to describe you as a dishonest priest who goes to the north to muddy the waters and later comes to the South to ask for those who did it.
Something has "eluded" the public and if utmost care is not taken as a means of dealing with the matter in the interest of fairness and Justice, others who were also asked for step-aside following an allegation of procurement violations would indeed suffer great injustice.
Prof.Anthony Afful Broni who went to beg Lord Commey to shoot down the ongoing Audit work into whooping Ghc 5.7M expended in six weeks has the temerity to call certain people "thieves" just because they were asked to step-aside following an investigation into something they were alleged to have done?
Prof.Anthony Afful Broni should have long been asked to step-aside for spending such an amount on questionable honorarium which has become the subject of an investigation by the Ghana Audit Service.
Dawda Eric (Equity)
Public Interest Advocate
UEW Alumnus
7th May 2019