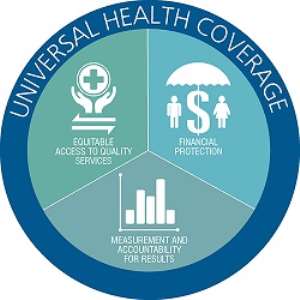 Good health is crucial to sustained economic and social development and poverty reduction. Access to needed health services is decisive for maintaining and improving health. At the same time, people need to be protected from being pushed into poverty due to the cause of health care thus preventing the rate of poverty in developing countries such as Ghana.
This article sees to elaborate on the objectives and bases of UHC, factors that contribute to achieving UHC, services included in UHC, coverage of the vulnerable, how UHC is measured, the impact of UHC.
Universal Health Coverage (UHC) is defined as "ensuring that all people have access to needed health services (including prevention, promotion, treatment, rehabilitation and palliation) of sufficient quality to be effective while also that the use of these services does not expose the user to financial hardship" (WHO)
To begin with, UHC coverage has three main objectives:
1. Equity in access to health services- everyone who needs services should get them and not only those who can afford the services
2. The quality of health services should be good enough to improve the health of those receiving services and
3. People should be protected against financial risk, ensuring that the cost of using the services does not put people at the risk of financial harm.
To proceed, UHC is based on WHO constitution of 1948. Universal health coverage is firmly based on the WHO constitution of 1948 declaring health a fundamental human right and on the Health for All agenda set by the Alma Ata declaration in 1978. UHC cuts across all of the health-related Sustainable Development Goals and brings hope of better health and protection for all citizens. UHC requires an efficient health system that provides the whole population with access to quality services, health workers, medications and modern medical equipment. It also requires a financing system to protect people from financial hardship and immiseration from healthcare cost. In 2003, Ghana renewed its commitment to UHC through the passage of National Health Insurance Scheme (NHIS) Act 650, the essence of which was to ensure equitable and universal access for all citizens of Ghana to an acceptable quality package of substantive healthcare.
Moreover, to achieve UHC, several factors must be put in place. Some of which includes:
1. An efficient, well-managed health system that meets the basic and priority health needs through the people-centered holistic care by motivating people to stay healthy and prevent illness, detecting health conditions early for instance through disease surveillance, having the ability to treat diseases and helping patients with rehabilitation and ensuring palliative care as necessary.
2. Affordability- a system for financing health services so that people do not suffer financial when using them. Example the use of NHIS to cater for medical treatment.
3. Availability- substantive medications, medical equipment to diagnose and treat patients
4. A well-trained health personnel to provide the services to meet the needs of the patient.
Furthermore, there are services to be included in UHC. Substantial health services (including HIV, tuberculosis, malaria, non-communicable diseases, mental health, reproductive and child health) should be made accessible to all who them.
In addition, UHC must ensure the coverage of the vulnerable. Ensuring access to health facilities, health personnel and medicines in remote, rural areas is relevant, as is providing interventions for the stigmatized. For instance, the construction of CHPS compound and the posting of health personnel to these facilities serve as the first contact point for medical care.
However, UHC is to be measured to ensure its effectiveness. As UHC is whether people get the health services they require and financial risk protection combined, measurement needs to include both aspects. Coverage of health services can be measured by the percentage of people receiving the service they need; example women in fertile age group accessing modern methods of family planning. Financial risk production can be analyzed by reduction in population size pushed into poverty as a result of health cost.
Consequently, UHC has a direct impact population's health and welfare of a country. Accessibility and use of health services enables people to be more productive and active contributors to their families, society and the country at large.
It follows that UHC is a critical aspect of sustainable development and poverty reduction as a key element of any effort to reduce social inequalities. UHC is therefore a distinguishing factor of a governments commitment to improve the health and well-being of all its citizens.
ACKNOWLEDGEMENT
DR. KINGSLEY PEREKO
DR. A.T DERRICK
MRS DIANA AGBENYO
Written By
SEWORNU DENNIS
PHYSICIAN ASSISTANT STUDIES
LEVEL 200
UNIVERSITY OF CAPE COAST