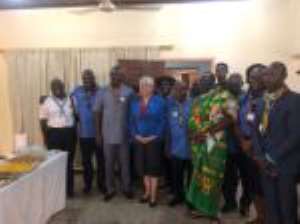 The International Scouts and Guide Fellowship (ISGF) has marked the official Opening Ceremony of its 3rd Africa Regional Conference at Abokobi in Accra.
The five-day programme saw over hundred participants from all their member countries across Africa, including the representatives of the Ghana Girl Guide Association and the Ghana Scout Association across the sub-region to create awareness about the role the Fellowship is playing to help government and allied youth institutions discover and harness potential talents.
Addressing participants, the President of Scout and Guide Fellowship - Ghana, Mr Prosper Bani noted that there was the need for leaders of scout movements to have an opportunity to reignite the elements of scouting that could contribute to the tackling of challenges confronting the youth of today.
He further urged various scout movements across Africa and the world at large to embrace the increasing world of technology which continues to rapidly affect development in all spheres of life.
The media, he said, also had a role to play in increasing awareness on the significance of scouting, adding that "our media fraternity must work with us to bring back scouting forcefully to our young people by partnering us in our efforts to increase scouting globally."
Mr Bani cited loyalty, trustworthiness, friendliness, kindness, obedience and courtesy as some of the characteristics of a scout, saying with these attributes of young people in any society, the world would be a better place.
The Minister of Youth and Sports, Mr Isaac Kwame Asiamah in a speech read on his behalf said his outfit would continue to support every activity that engages the youth in a positive way because the youth are the future leaders.
He said government believes that educated youth is a powerful weapon in reducing poverty that is why President Nana Addo Dankwa Akufo Addo was delivering on Free Senior High School (FSHS)
He explained that the FSHS policy had made it possible for every child of school going age to be educated.
According to the Minister, Scouts and Guides Fellowship is a great resource to any nation that I able to tap into their abilities.
Mr Asiamah urged the National Scouts and Guides Fellowship to continue to use its strategy of national and international networking among youth organisations to share experiences, knowledge and skills in various areas of human development and to collaborate as they join in nation building.
The Chief Scout Commissioner of the Ghana Scout Association in her address commended participants for their commitment to the Fellowship and sense of discipline.
"We have really come far and I am happy Ghana is hosting this conference right here. This shows that there are better days ahead. Long live ISGF," she added.
The Chief of Abokobi, Hon. Samuel Nii Adjetey Mohenu urged both the Scouts and Guides to continue instilling discipline and moral values in the youth by creating more groups in our communities.