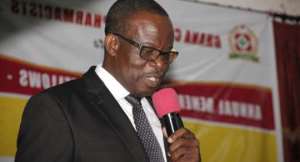 Mr. Benjamin Botwe, President of Pharmaceutical Society of Ghana
The Pharmaceutical Society of Ghana (PSGH) has thrown its weight behind the Ghana Health Service over the introduction of the new anti-malaria vaccines.
Since the rollout of the vaccines in the country, some skeptics have lashed out at the government for giving out drugs that did not go through the required clinical tests.
However, PSGH has stated that the vaccine is efficacious as an add-on intervention, and stressed that it went through the clinical trial processes before its introduction.
A statement signed and issued by Mr Benjamin Botwe, the President of the Pharmaceutical Society of Ghana said the newly introduced anti-malaria vaccines offer one of the single most important breakthroughs which have the potential to contribute to further reductions in malaria deaths and offer long term protection to children in Ghana.
"This will not only benefit the healthcare system but will contribute to the attainment of a significant reduction in morbidity and mortality in children. Historically, vaccines have proven to be among the most effective means of preventing disease and saving lives, particularly in the case of infectious diseases and thus despite few historical issues related to vaccination, the importance of vaccination exercise is there for all to see," the statement read.
According to statistics, malaria kills one child every 30 seconds and about 3,000 children every day.
Over a quarter of all young child deaths in Africa occur due to malaria. Of the 20,000 children who die from Malaria every year, 25percent are children under the age of five.
The vaccine, which was introduced on May 1, 2019, is being implemented in the Bono, Ahafo, Bono East, Volta, Oti, and Central regions, where malaria is endemic.
However, the Pharmaceutical Society has urged the general public to take advantage of the vaccination exercise and speak to their healthcare professionals when in doubt.
Pharmacists in the communities where this exercise is underway have been urged to appraise themselves of current information on the Mosquirix vaccine and look out for any side effects experienced by children receiving the malaria vaccines.
"In addition, they should offer their support and advice appropriately. We further urge all Pharmacists and healthcare professionals to be on the lookout for possible adverse drug reactions and report accordingly to the FDA through its Pharmacovigilance program," the group noted.