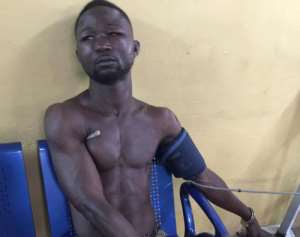 SUSPECT! Nuhu Yakubu Mohammed
Police in Tesano, Accra, have finally apprehended a 28-year-old man called Nuhu Yakubu Mohammed, aka 'Not Nice', who allegedly stabbed one Mohammed Kamal Tahiru to death during a clash between two youth groups on March 4.
The suspect went into hiding after committing the offence until his arrest last Saturday by the police with the help of family members of the deceased at Joma in Ablekuman in the Ga Central Municipality.
He is currently in the custody of the Tesano Police assisting in investigations.
Briefing DAILY GUIDE, the Tesano Divisional Police Commander, Chief Superintendent Oduro Amaning, said the deceased Kamal Tahiru, aged 34, was a trader while suspect Nuhu Yakubu Mohammed is unemployed but believed to be an Indian hemp dealer.
He said on March 3, 2019, the suspect confronted a friend of the deceased by name Paa Yaw, who also deals in the narcotics substance, for straying into his territory, and as a result, seized the stuff that he was selling.
"The suspect claimed the area where Paa Yaw was selling his dried leaves was for him alone," the policeman said.
On March 4, 2019 around 7:00pm, the police said Paa Yaw accompanied by Tahiru and three others confronted Yakubu Mohammed over the issue and this resulted into a scuffle, adding, "In the process, Yakubu Mohammed who was armed with a knife stabbed Tahiru many times until he fell unconscious."
The victim was rushed to the Ridge Hospital in Accra for treatment, but passed on the next day at the health facility.
The suspect, upon hearing the news of the death of Tahiru, went into hiding until May 4, 2019, when the family and friends of the deceased helped the police to arrest him at Ablekuma.
The police officer said during interrogation, the suspect admitted the offence and is expected to be put before court soon.
The incident forced the Okaikwei North Municipal Assembly to abandon this year's Independence Day parade at the Fadama Cluster of Schools Park due to security concerns following the death of Tahiru.
---Daily Guide