Weah Suspends Deputy Information Minister Over Tribal Rhetorics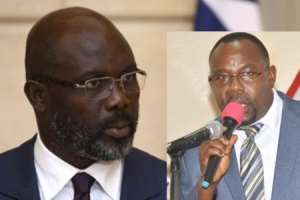 Liberia President George Weah has indefinitely suspended his Deputy Minister of Information for Press and Public Affairs Eugene Fahngon over his tribal rhetorics.
The suspension came just moments after the United States Embassy in Monrovia raised concerns about what it described as disturbing tribal tunes of the government official, former warlord Prince Y. Johnson and Representative Yekeh Kolubah.
The US Embassy believes that the growing tribal sentiments in Liberia could likely lead to a tribal strife.
In a statement issued by the Embassy sighted by DGN Online, the US Government said
"Those who promote through their words or deeds a Congo-Country divide do not have Liberia's best interests or that of their constituents at heart, but rather appear motivated by personal ambitions or fears."
It added that "It is unacceptable for Senator Prince Y. Johnson, Representative Yekeh Kolubah, "ex-generals" or other former actors in Liberia's civil wars to incite unlawful acts through ill-considered rhetoric that could jeopardize Liberia's hard-won peace and security."
The US Government says "it is equally irresponsible for people within leadership positions in government or the ruling party to promote such division as Deputy Minister Eugene Fahngon has done on social media. To take such a public stance and suggest it is a private opinion or a personal right reflects a misunderstanding of the nature of public service in a democracy."
Mr. Fahngon, in a Facebook post last weekend, sought to replay past civil wars in Liberia and the killings of some former Presidents as he called for support for Mr. Weah to counteract a planned protest slated for June 7 dubbed: 'Save The State.'
Thousands of Liberians are planning to protest against the Weah's Presidency, saying his 'bad leadership' has destroyed the country.
Mr. Fahngon while recounting the killings of past 'country presidents,' wrote: "Nov.12,1985 the patriotic forces. Dec.24,1989 National Patriotic Forces; June 15,1990, Independent National Patriotic Front of Liberia (INPFL); June 7, 2019 Council of Patriots…. I will exercise my constitutional right to freedom of association as provided for in article 78."
He added "I will march from the ATS (Antoinette Tubman Stadium) to the SKD (Samuel Kanyon Doe) Sports Complex on Saturday, June 8, 2019 alongside the assembly of country people (a c p) to show appreciation to president Weah for the great job done in a year and half."
—Daily Guide