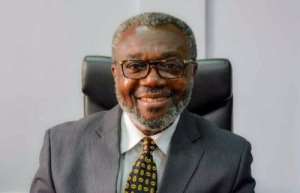 Dr. Nsiah Asare
The Director-General of the Ghana Health Service (GHS), Dr. Anthony Nsiah-Asare has refuted claims made by some social media anti-vaccine campaigners that the country was undertaking a clinical trial of a new malaria vaccine.
According to him, Ghana was rather undertaking a three-year malaria vaccine implementation pilot, together with Malawi and Kenya.
In an interview with Peace FM's Morning Show host, Kwami Sefa Kayi on Monday, he explained that the vaccine trial was a clinical trial that aimed at establishing the safety and efficacy of a vaccine prior to it being licensed.
The rumor by the social media campaigners, especially from the United States of America (USA) and Europe, fuelled fears amongst parents in the country, and across the world.
However, Dr. Nsiah Asare has explained that what the country is embarking on is the delivery of Mosquirix or RTS,S, which is the newly licensed malaria vaccine, into the routine immunization programmes of the various countries.
Dubbed the Malaria Vaccine Implementation Programme (MVIP), the project will further assess its compatibility with other immunization programmes.
The RTS,S vaccine being used in the country, according to him, had already undergone Phases I, II and III clinical trials and had been licensed by the WHO and approved by Ghana's Food and Drugs Authority (FDA) for use in Ghana.
"Phase I trial was done 20 years ago among some United States Army volunteers to establish the safety of the vaccine, saying currently, the volunteers were still in healthy conditions," he said.
He, however, advised parents not to deny their child the right to live by listening to these anti-vaccine campaigners and stressed that immunization was the best solution to childhood survival against killer diseases such as malaria, measles, and polio.
The vaccine, which was introduced on May 1, 2019, is being implemented in the Bono, Ahafo, Bono East, Volta, Oti, and Central regions, where, according to Dr. Nsiah-Asare, malaria was endemic.