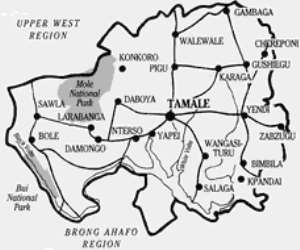 Kpembe, (N/R), Jan.8, GNA - Alhaji Mohammed Nurudeen Jawula, Chief Director of the Ministry of Harbours and Railways has called on the government and well menaing Gnanaians to consider the appeal made by the chiefs and people of the Gonjaland for the creation of a separate Region out of the Northern Region to enhance development.
He said that the Region has the largest landmass in the country and as such national budgetary allocation had always been inadequate for its developmental needs, hence making it the most deprived in the country. "Time has come for both the government and the opposition to soberly reflect and come out with a bold decision to create a separate region from the Northern Region to enhance the full utilisation of the natural and human resources for rapid development", he said.
Alhaji Jawula made the call during his enskinment on Saturday as the Lepowura officiated by the Paramount Chief of the Kpembe Traditional Area, Kpembewura, Alhaji Ibrahim Haruna Kibasibi I.
The 55-year-old administrator, who succeeded the Sungbonwura Braimah Sulemana, would now serve as an advisor to the Kpembewura and the Kpembe Traditional Council as well as liaise between the chiefs and people of Salaga and the Kpembewura on land and other traditional matters. Alhaji Jawula assured the Kpembewura and the Kpembe Traditional Council that he would use his vast experience in public life to help bring about peace and love among the people in the area in particular and the country as a whole.
" I will also work to ensure the judicious use of land to increase food production to reduce poverty among the people in line with Ghana's Poverty Reduction Strategy (GPRS) document.
He said another area that would be of great concern to him is to work toward promotion and strengthening peaceful co-existence with other ethnic groups as well as renewing the old alliance between the Gonja kingdom and other kingdoms in the country for the mutual benefit of the people.
Alhaji Jawula noted that the Northern Region has for some time not been faced with conflicts and therefore stressed on traditional rulers in the area to combine their efforts to resolve amicably all issues that had the potential of creating conflicts.
The former GFA Chairman and also once a Director at the Ministry of Finance would be customarily out-doored as Lepowura on Monday. People from all walks of life attended the occasion.
A government delegation led by the sector Minister of Harbours and Railways, Professor Ameyaw Akumfi including Mr Joseph Kofi Adda, Minister of Manpower and Employment and the Northern Regional Minister, Alhaji Abubakar Saddique Boniface graced the occasion.
Members of CAF who were on an inspection tour of the site for the construction of a new sports stadium in Tamale also graced the ceremony.
08 Jan 06