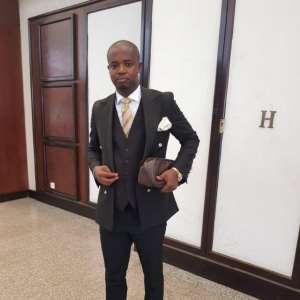 A private legal practitioner and member of the National Democratic Congress (NDC) Godwin Edudzi Tamakloe said the appointment of Martin Amidu as Special Prosecutor was purely timed to capitalise on his bitterness towards former President Mahama and the NDC party.
Nana Addo, he said genuinely exploited Amidu anger in a very unethical manner.
According to the young affable lawyer, President Akufo-Addo seized the opportunity of Amidu bad relation with former President John Mahama and the NDC to offer him (Amidu) the appointment without any extensive consultation.
Mr Edudzi made the claims on his Facebook page.
According to him, the Act establishing the Office requires due process and not emotions.
In his view, Amidu could not apply the Office of the Special Prosecutor Act without recourse to the provision of the Constitution and procedures.
"The 1992 Constitution has elaborated provisions offering protections for citizens right from the time of arrest to detention to arraignment in court," he intimated.
"The Supreme Court in the recent case of Eugene Baffoe Bonnie and others v The Republic, expanded the scope of disclosures in criminal trials to include those involving summary trials," lawyer Edudzi argued.
He contended that, per the Supreme Court decision, prosecution could take easily as anger, stating "You can't really hide any serious piece of material evidence from the accused persons."
He added that whereas Nana Addo was thinking of a Gestapo Office of Special Persecutor, the situation per the laws of the land could not guaranteed that, hence the President and his party, the New Patriotic Party could not get prosecution smoothly.
Mr Edudzi said, if the President believed and have trust for Mr Amidu, would not still be using investigators from Economic and Organized Crimes Office for his work.
He further doubts the sincerity of the President appointment of Mr Amidu since EOCO has investigated several people and initiated criminal prosecutions.
He stressed that, instead of using Mr Amidu and his office to prosecute the alleged corrupt officials," The President prefers to use the current Attorney General more. She is in fact in court prosecuting different cases."
"Clearly, the conduct of Nana Addo's Attorney General should tell you that OSP was just for politics," Lawyer Edudzi further asserted.
The NDC legal team member said, "Mr Amidu easily fell into Nana Addo's political gamesmanship without more."
He posited that Amidu would try to please the President but the steam is gone.
He also pointed out that, the NPP latest commentary on Martin Amidu works further betrayed the NPP political sub-culture of using criminal prosecution as a tool of political demonization.
Mr Edudzi said the only thing now for Amidu to save his credibility is to resign from the Office.
The legal practitioner said the real people who will face the Office of Special Prosecutor would be the appointees of President Akufo Addo after he leaves office in 2021.
For him, "anyone with critical mind can see the various corrupt deals they are engaged in using Parliament."