No Consensus On Aker/AGM Petroleum Deal Approval – Mutawakilu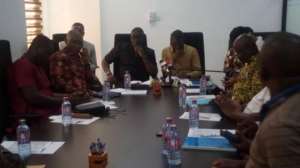 A cross section of a sitting of the Parliamentary Select Committee on Mines and Energy
Government managed to get Parliament to approve the renegotiated South Deepwater Tano Oil Block deal with Aker/AGM Petroleum on Friday, May 3, 2019 despite the issues the Minority group flagged in Parliament.
But what still remains to be clarified is whether or not the Committee on Mines and Energy's recommendation to Parliament for the approval of the agreement was by majority decision or by consensus.
While the report of the Committee indicated that the recommendation for approval was by majority decision, but the Chairman of the Committee, Emmanuel Kwasi Gyamfi in delivering the report on the floor of the House observed that it was by consensus.
However, the Ranking Member on the Mines and Energy Committee and MP for Damongo, Adams Mutawakilu indicated on Newsfile on Saturday indicated that the Chairman had misrepresented the facts on the floor and that they did not agree on consensus.
He said he had to rise on the floor to correct the wrong impression that had been created for it to be captured in the Parliamentary Hansard for future reference.
He insisted on the show which was monitored by Modernghana that the agreement was by Majority decision and not by consensus as opposed to the Chairman comments on the floor of Parliament.
According to him, the Chairman may have outwitted the Minority Caucus on the Committee and deceived Parliament and the people of Ghana to believing that the deal was by consensus.
Mutawakilu added that the Minority only agreed not to stage a walkout and not to seek a head count of the votes in order to get an increase in the Carried Interest of the state in the agreement from 3% to 10%, but did not reach a consensus.
However the Editor in Chief of the New Crusading Guide newspaper, Abdul Malik Kweku Baako Junior who is a co-panelist on the show, rebutted his claims when he observed that the records still show that the agreement was by consensus despite what the Minority is claiming.
According to him, the Parliamentary system lays more emphasis on what must be recorded in the Parliamentary Hansard than what may be captured in a Committee report.
Mr. Baako faulted the Minority for not insisting on their earlier position to resist the approval of the agreement which they had earlier articulated in a press conference on Friday morning.
In his view, since the Minority had accepted the incentive to have part of their demands met, they had technically acquiesced to the Majority position.