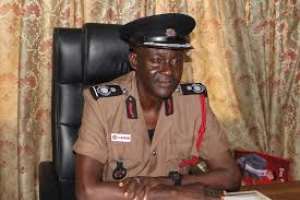 Chief Fire Officer, Edwin Ekow Blankson
A Chief Fire Officer of the Ghana National Fire Service (GNFS), Edwin Ekow Blankson has cautioned the general public to desist from engaging their hotlines with prank calls.
The Service has been complaining over the rising number of prank calls by citizens.
According to statistics, more than 297,000 prank calls were received by the Ghana National Fire Service (GNFS) between December 24 last year and January 2 this year.
Out of the almost 300,000 calls received during the period, only three were calls from people genuinely in distress.
This has become a challenge for them and have warned prank callers to desist from the act.
Meanwhile, Mr. Edwin Ekow Blankson has assured all personnel of Government commitment to ensure their needs as firefighters are met to enable them discharge their duties.
"I wish to encourage you to remain united as one unit prepared to fight for each other and discharge your duties in a resolute and purposeful manner deserving of professional firefighters in line with our motto "Service with Compassion," he stated.
He continued, "Do not compromise your professionalism no matter the challenges but aim always at delivering on world-class firefighting and rescue for our Nation."
International Fire Fighters' Day is observed on May 4.
In a message to firefighters across the country in commemoration of the International Fire Fighters Day on Saturday, he called on the public to support their effort at reducing fire occurrence by adhering to fire safety messages.
It was instituted after a proposal was emailed across the world on January 4, 1999, due to the deaths of five firefighters in tragic circumstances in a bushfire in Australia.