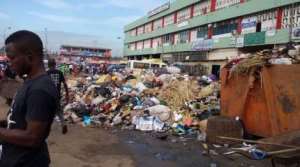 Filth at Kaneshie market
Indeed Ghana has become a filth hub displaying all sort of refuse on our street and individual homes with gutters serving as damping sites especially in our cities and every corner where there is human habitation. Poor sanitation has been with us for years and more common in developing countries such as Ghana.
In Ghana, refuse deposited in gutters serve as a block in water pathways causing flooding in most of our cities whenever it rains. Flooding coupled with poor sanitation leads to diseases outbreak such cholera and diarrhea diseases which poses public health threat.
Many people have lost their lives due to poor sanitation caused by indiscriminate refuse disposal, but it seems we as Ghanaians have learnt nothing. Just recently a military man and his wife lost their lives due to flooding caused by choked gutters but the act of poor refuse disposal is still a reigning event with no special attention received from our leaders.
In Ghana, governments past and present has rolled out various policies and programmes to deal with this menace including deployment of sanitary inspectors (nsamansam) in the 90s, ZOOMLION and later ZOOMALIANCE, distribution of dustbins several advertisements and even a day was set for national sanitation day to clean our environment every month, a programme initiated by ministries of sanitation and water resource but still cannot resolve the problem. Then the question is, is poor sanitation a behavioral inheritance or lack of law enforcement?
Poor sanitation causes flooding, causing people to evacuate their residence and become homeless on the street. These people sometimes are prone to disease outbreaks such as cholera, typhoid, malaria and some skin infections. Millions of Ghana cedis are been pumped into sanitation. In 2019, Gh250million budget was approved by parliament to sanitation ministry (ghanajustice.com, 2018). It cost Ghana $105million to construct and clear gutters in Accra to prevent flooding in the future according to the World Bank (ghanabussinessnews.com, 2017/05/30). In 2018, Dr.Nsia Asare warned Ghanaians of cholera outbreak since the raining season was about to come. ( myjoyonline.com/lifestyle, 2018). In 2014, 28975 cholera cases with 243 deaths were reported from 130out of 216 districts in Ghana. (bussinessghana.com, 2018).
One may wonder with all these efforts, investment and effects, is the sanitary condition improving at all? The answer is no! So why? This is because we have not changed our mindset and behavior towards how we handle rubbish and probably the laws are not deterrent enough to scare people.
THE WAY FORWARD
Sanitation issues should be reconsidered and sustainable policies should be rolled out such as covering all open gutters, deploying security personnel at vantage points to arrest and charge offenders. Also setting special court for sanitation and environmental issues can be considered.
It is time we restructure our educational system and include environmental and sanitation curriculum and behavioral modification subjects in our basic and secondary to train our mindsets and become sanitation conscious. Pupils must start learning about environmental health, sanitation, pollutions, personal hygiene, poor sanitation, causes, effects and solutions to sanitation problems in our community, sanitation-related offences and their sanctions. People appreciate good sanitation and aesthetics when they are trained to understand proper sanitation and good health. The bible even says that cleanliness is next to godliness. NCCE should intensify education on the effects and cost of poor sanitation on the individuals and the country in general.
In conclusion, we all want to see Accra and for that matter Ghana as the cleanness country if not in Africa, West Africa but we all have to change our attitude towards sanitation and inculcate environmental health programmes into our basis and secondary school curriculum to get the basics right. Bible says that, show the child the way he should go so that he might not depart from it when grown. If only we will show patriotism towards national development and show concern individually towards the sanitation status of Ghana, then Ghana will be clean for all of us.
BY David Yaw Koduah