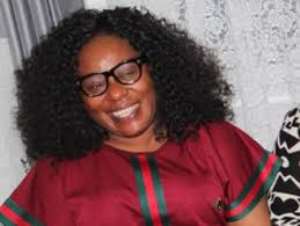 Late Madam Louisa Nelson
On Friday, 26th April 2019 our dear sister and comrade, Madam Louisa Nelson the NDC-UK & Ireland Chapter Women's Organiser left us to be with the Lord. All Chapter members and the entire NDC fraternity world-wide were in huge shock as we received this devastating news.
Upon hearing the sad news, the Chapter leadership and some branch executives visited late Madam Louisa's home to commiserate with her family. Following the visit, the Chapter leadership held an emergency meeting with branch executives last night, 3rd May 2019 to deliberate on how to honour our departed sister and help her family give her a befitting burial.
The following were agreed:
The rest of the month of May has been declared as a period of mourning. Late Madam Louisa Nelson and the Chapter Women's Wing were in the process of planning the Women's Month event which is a major annual Chapter event that takes place in the month of MAY, before her untimely demise. Essential Branch and Chapter activities and meetings shall take place as per normal but must all be conducted in sombre mood because we believe that this is what Madam Louisa would have loved. She hardly missed party meetings and activities when she was alive.
A seven-member Funeral Coordinating Committee has been formed. This Committee will liaise with the family and advise the Chapter leadership on how best to help Madam Louisa's family give our departed comrade and sister a befitting send-off. The members of the Funeral Coordinating Committee are:
Mr Roger Appiah 5. Mr Mike D. Kudiabor
Ms Mary Gardner 6. Ms Gifty Agbenu
Dr Joe Agyemang 7. Mr Kudjoe Fiadzawu (Torgbi Adzah I)
Mr Musah Adamu
Signed :
Mike Dzidula Kudiabor
Chapter Secretary - NDC UK & Ireland Chapter