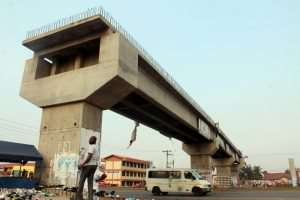 The disability friendly excuse by Govt officials for the ergonomically unsuitable, financially unwise & engineering mistake of the Madina Footbridge is moot on arrival as it defeats the purpose of footbridge constructions. *Safety and convenience* are two major factors considered in the design, construction & usage of footbridges the world over and one doesn't need to be a clairvoyant to point out such failure in the current edifice which is certain to be a white elephant.
Apart from safety considerations, pedestrians/cyclists/physically challenged folks etc always look forward to having a footbridge that they can cross quickly & conveniently. Thus, footbridges should not merely be provided for safety, but should be convenient for users. They must be convenient for users to scale over in seconds; particularly when a person, by the nature of his or her business, needs to quickly commute when dealing with clients.
It is regrettable for Govt officials in 2019 to compare current road related architectural designs to that of yesteryears and to justify this unfortunate messy long winding concrete Madina Footbridge structure which does not have any ergonomic soul in it. Is the Govt of the day telling Ghanaians that they are not aware that architecture and design is life, history and culture? or they have forgotten that important aspect?
We at Dis-Net, GH are all for making our public places including footbridges, underpasses, tunnels, walkways etc disability friendly but to say this messy long winding concrete structure of Madina Footbridge is disability friendly merely because it does not have steps, is professionally untenable and a lazy excuse to hide mediocrity.
Are Govt officials telling us they are oblivious of the fact that most physically challenged citizens in Ghana who use wheelchairs do not use motorised wheelchairs? If they are aware then where is the 'disability friendliness' when they have to endure that punishment of arduously wheeling themselves up through this long winding caricature to the top?
There is a high probability that despite this edifice, pedestrians and passers-by will prefer to scale over barricades along the highway or squeeze through any available openings etc than safely climb the footbridge to waste their time and to sap their energy. This calls for broader consultations with residents or patrons in areas where such facilities will be constructed in future and also the use of tunnels beneath our highways for pedestrians to easily manoeuvre can also be considered by Govts.
It is in this regard, that, we call on the NRSC and other stakeholders to urgently review their roles in the construction of such facilities because it is the role of the NRSC as a statutory agency to lead in championing, promoting and coordinating road safety activities in the country by undertaking nationwide road safety education, information and publicity; develop long-term road safety and promote road safety research so with these laudable objectives, one would have thought that road fatalities, interactively presented on its website, would not be up to 1,710, from January to September 2018.
Prevention of avoidable disasters of all forms and working towards its mitigation is a shared responsibility. Thank you.
Signed:
*Kofi Ankomah Hagan,*
*0261111200*
*(Humanitarian Ambassador)*
*Nii Nanka Bruce*
*0242212359*
*(Humanitarian Ambassador)*