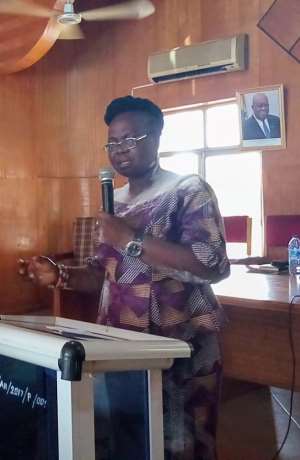 50-year old lecturer of the Berekum University College of Education, Justina Owusu-Banahene, has received a hundred percent endorsement by members of the Sunyani Municipal Assembly to become the next Municipal Chief Executive (MCE) of the Bono regional capital.
All the 47 Assembly-members present voted YES to endorse the President's nominee, who until her new appointment was also the Deputy National Women's Organizer of the ruling New Patriotic Party, having served in various capacities in the party over the years.
The Bono Regional Minister, Mrs Evelyn Ama Kumi-Richardson swore the newly elected MCE into office after the Electoral Commission had officially declared the outcome of the election.
In her acceptance speech, Madam Owusu-Banahene expressed her appreciation to President Akufo-Addo for her nomination and assembly members in the municipality for their massive support and endorsement as well as all those who contributed to her success.
The obviously elated new MCE pledged to work hand-in-hand with staff of the Municipal Assembly, members of the public and anyone who has the development of the area at heart saying, "my doors are always opened to everyone."
She mentioned women empowerment, sanitation, education and other critical areas of concern as some of the issues that would attract her attention and called for the support of all to enable her carry out her work effectively.
Earlier, the Bono Regional Minister, Mrs Kumi-Richardson, presented keys of 50 motor-bikes meant for distribution to all assembly members in the Sunyani municipality to the Co-ordinating Director, Samuel Gyimah, who in turn handed them over to the Presiding Member.
The motor-bikes are to enhance the work of the Assembly-members.