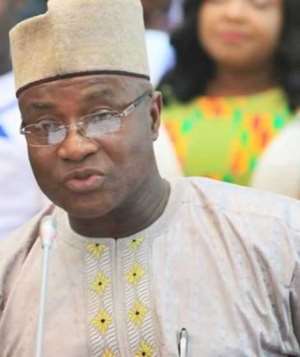 Osei Kyei Mensah Bonsu
The Minister for Parliamentary Affairs and Majority Leader in Ghana's Parliament, Osei Kyei-Mensah-Bonsu, is urging the two major political parties NDC and NPP, to come all out against the canker of party militia.
The astute politician and Leader of Government Business in Parliament who is in his fifth term as the Member of Parliament for the Suame constituency in the Ashati region ask them to be realistic in their considerations and come to the table with practical solutions to bring an end to this negative political phenomenon.
"This impunity must stop in its tracks. It could escalate from 'Boot-to-Boot to Bomb-To-Bomb, " he intimated.
He recounted some incidents in the country's political electoral history which attests to the fact that governments and political parties have always been the beneficiaries of the activities of political vigilantes.
He also made references to acts of violence occurring right across the country's borders in neighboring countries such as Burkina-Faso among others which are terrorist in nature and could spill over into the country at any time.
Hon. Kye Mensah Bonsu urges that political interests be pushed aside in order to put the country in readiness in case of any eventualities.
"Conflict is close to us and if we don't prepare, we may be caught pants down, " he cautioned.
The Minister said this at a dialogue programme with the media on the menace of political vigilantism in the country organized by the Ministry of Parliamentary Affairs.
The programme which brought together astute media practitioners, editors, political talk show hosts and captains of media organizations offer some insights to enrich the content of the Vigilantism and Allied Offences Bill currently before Parliament under the theme, "Curbing Political Vigilantism: The Media's Take".
Though the Minority in Parliament have also expressed concern about the threats posed by political vigilantism in the country, they are on record to have stated that they did not believe the way to go was to legislate on it.
Speaking on behalf of the Minority Leader, Haruna Iddrissu, the MP for Builsa North, James Agalga, indicated that there already exists legislations which could be invoked to deal with the menace.
He shares the belief that a new law will not change much if the political will to tackle the issue was lacking.
The lawmaker added that, "Be that as it may, the Bill in its current form needs to go through certain modifications to pass the test of time."