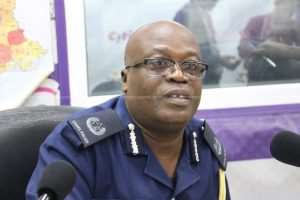 "The assurance is that, these suspects were arrested by our own officers so we don't condone acts of criminality. And when it happens to be an officer or any other security person, we deal with it swiftly because we must set a good example," he said.
"There are reminders that the IGP sends to police officers. Now we have a WhatsApp group and send messages that every police officer who has a mobile phone receives from the IGP reminding them of best practices and to be professional and also administration instructions are also issued."
The Director-General of Public Affairs Directorate of the Ghana Police Service, ACP David Eklu gave the assurance on the back of a recent arrest of a police officer alongside a military person and a civilian for their involvement in various robbery cases in Accra.
He said the service will ensure that such officers are duly sanctioned and dealt with speedily by law.
He told Citi News in an interview that, the Inspector General of Police, David Asante Appeatu has constantly been reminding officers of their duties and expectations of their conduct as law enforcers via a WhatsApp platform created for police officers in the country.