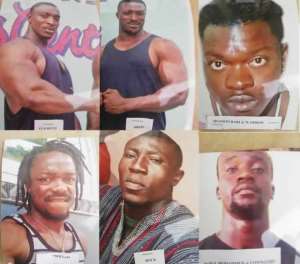 Eight of the suspects are still at large
According to ASP Ahianyo, efforts by the police to pursue or arrest the suspects are been thwarted by people, including relatives whom he said are harbouring them in their homes and hotels.
"We've had three people who are currently in custody; we've gotten Akon. The others are on the run and I am telling you they are hiding in homes of people. And you know it's an offence to harbour a criminal," he said.
He cited an instance where some of the suspects were whisked away in a 4X4 vehicle after police moved in to arrest them after picking intelligence.
The suspects managed to escape after an unsuccessful chase by police.
According to him, police will invite relatives of Akon for questioning after it came out that they have been hiding him to the extent that a toilet and bathroom had been constructed in his room at their Abirem Old Town residence.
"We are even going to extend our investigations to his [Akon] family members to invite them. They have built excuse me to say toilet [and] bath in his room and was hiding in there and they were feeding him 24/7. He wasn't coming out."