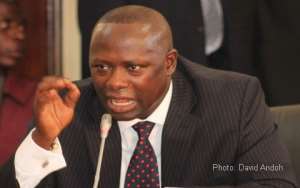 Emmanuel Armah Kofi Buah, Ex-Minister of Petroleum
Ex-Minister of Energy and Petroleum under the erstwhile Mahama administration, Emmanuel Armah Kofi Buah is accusing the Akufo-Addo government of aiding 'big pocket' companies against state interest.
The Former Minister who expressed frustration about how the current government was handling the affairs of the state, especially in the petroleum sector, told newsmen in Parliament that government is gradually abusing its mandate.
The Elembele lawmaker has alleged that the current government has reduced the country's stake from 48percent to 18percent in a renegotiated petroleum agreement it is about to sign with big petroleum company AGM.
According to him, documents he chanced upon indicates that government has connived with the petroleum company to reduce Ghana's interest in the new agreement as against what was earlier signed with the same AGM Petroleum Ghana Limited in the previous administration.
"This government has developed a pattern of being of siding with big businesses against the interest of ordinary Ghanaians and we must all be concerned about that," he observed.
Mr. Kofi Buah who is a member of the Parliamentary Select Committee of Mines, Energy and Petroleum revealed that, under the old agreement with AGM Petroleum in the previous administration, the additional interest was 15 percent for Ghana.
However, in this new agreement, it has been reduced to 3 percent. He also added that the share of the subsidiary of GNPC under the old agreement which was 24 percent, has been reduced to zero percent under this new renegotiated agreement.
"Now from my initial calculation, it means that they are reducing Ghana' stake under this amendment, from 48 percent to 18 percen," he intimated.
He wondered why a country that is hungry for revenue would reduce its stake so much when there are already better examples to learn from.
The Minority in Parliament is demanding justification from government over the proposal to reduce its stake in the AGM agreement following the laying of an amendment in Parliament to vary the terms of the petroleum agreement between government and AGM Petroleum in the Deep water Tano Contract Area.