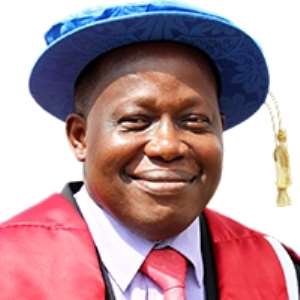 Rev. Fr. Prof. Anthony Afful-Broni
Rev. Fr. Prof. Anthony Afful-Broni, a Roman Catholic priest, is so accomplished in the arts of hypocrisy and fraud that he pretends to be oblivious of the fact that his continuous stay in University of Education, Winneba (UEW) will jeopardize an already fragile peace. In 2015, he failed in his bid to become Vice-Chancellor (VC) of UEW. Professor Mawutor Avoke topped the list of applicants at the interview and got appointed VC after his first unsuccessful attempt in 2007. He [Mawutor Avoke] had been with UEW since its inception in 1992 and rose through the ranks to become a Full Professor in 2005. That same year Afful-Broni, having entered UEW almost a decade after its establishment also became a Senior Lecturer. Professor Mawutor Avoke was subsequently appointed Pro-Vice Chancellor (Pro-VC) of the university in 2008. After serving two terms as Pro-VC, he was again appointed Dean at the School of Graduate Studies in 2012—a position he held until 2015 when he became the VC.
Later in 2016, Mawutor Avoke had the magnanimity to nominate Afful-Broni to be appointed Pro-VC of the university. This was in spite of the very ruthless and vicious campaign Afful-Broni had ran against him. Little did Avoke know that his gestures of compassion, unity, kindness and generosity would be met with betrayal and meanness. Driven by a Macbeth-like ambition, Afful-Broni treacherously forged non-existent evidence in order to implicate Avoke. He fake-smiled at Avoke in the daytime and betrayed him in the dead of night when he sneaked out to bamboozle Hon. Alexander Afenyo-Markin (Member of Parliament for Effutu) into thinking something was amiss in the management of the university. This compelled Afenyo-Markin with Supi Kwayera as plaintiff to seek some reliefs at the Winneba High Court.
When the Winneba High Court wrongfully asked Avoke to step aside until a case brought against him was determined, Afful-Broni, not only declared in his church that he would ensure Avoke's dismissal, but also goaded Abakah, the governing council chair to get Avoke and some five other officers dismissed. Consequently, Abakah wrote to the six officers asking them to step aside [kindly refer to the attached document]. According to the letter, the officers' continuous stay in office could compromise the outcome of the EOCO and BNI investigations being conducted into "alleged procurement and financial irregularities leveled against the university by one Mr. Supi Kofi Kwayera at the Winneba High Court."
First of all, it is essential to note that the Supreme Court (the highest judicial body in Ghana) overturned the Winneba High Court's rulings which led to the removal of Avoke. Again, and more importantly, the EOCO and BNI investigations for which reason Abakah (aided by Afful-Broni) asked Avoke and five others to step aside, have all exonerated Prof. Mawutor Avoke. Although the EOCO report, unsurprisingly, indicts Afful-Broni, Abakah does not think it necessary to set up a committee to investigate him. Instead, he organized a party and conferred on himself a full professorship title. Abakah looks on as Afful-Broni shamelessly canvases support among lecturers and promises them professorship and other promotions in return. Is that how cheap and easy it is to become a professor?
The big question, however, is if the Supreme Court, EOCO, and BNI have all cleared Avoke, why then should he not be reinstated? Why are all the other officers who were wrongfully dismissed not reinstated? Your guess is as good as mine. At this point, it is critical to note that Afful-Broni and Abakah have again shifted the goal post; now claiming that the removal of the six officers was based on the recommendation of a 'fact-finding' committee they [Afful-Broni and Abakah] had set up. Afful-Broni and Abakah stated categorically that their committee has found the officers culpable of procurement and financial irregularities. Meanwhile, these were the same allegations for which the officers had been investigated and cleared by EOCO and BNI.
The fact that Afful-Broni and Abakah jumped the gun by issuing press statements and calling press conferences to declare the officers guilty of malfeasance long before the committee completed its task shows that the committee's report was put together even before it started its work. Certainly, this cannot be a Fact-Finding Committee but a FAULT-FINDING one. Perhaps this three-member committee is more powerful and credible than EOCO and BNI.
In any case, the so-called fact-finding committee was established to gather facts for the University to put up a better defense in Court. How then can its report become a basis for the removal of Avoke and five other officers? Hypocrisy at its best!
Assuming without admitting that the supposed fact-finding committee had evidence of financial irregularities, it would be conscience-shocking that Afful-Broni would not be indicted as he signed payment vouchers to the tune of Ghc 1,338,456.97 as against Ghc 783,300.00 payment vouchers that Avoke approved [Kindly refer to the attached document for details].
There is no doubt that Rev. Fr. Prof. Anthony Afful-Broni's hypocrisy has reached worrying proportions. At the just ended 23rd congregation of the university, he was heard calling on students and staff to unite and chart the course for peace. But the problem is that when you become a VC through an illegal means and you exercise your powers arbitrarily by sacking over 32 staff for no reason at all, are you not standing in the way of the peace and unity you hypocritically preach? How do you expect your sacked victims and their dependants to survive? How would they buy food, take care of their family, pay rent and utility bills? Again, is it not sheer hypocrisy when you seek support from an MP to achieve your hidden mischievous agenda then turn round to malign and campaign against him by telling people not to vote for him as MP for Effutu because his mother hails from Mangoase?
Afful-Broni and his wicked heartless fellow, Abakah are such an embarrassment to academia and must step down to save UEW. Even their supporters know too well that no decent thing can come from them. It is sad to hear Avoke say he has forgiven Afful-Broni, Abakah and all those who wronged him. As for God, He does not and will not forgive such unforgivable sins (Isaiah 22: 14).