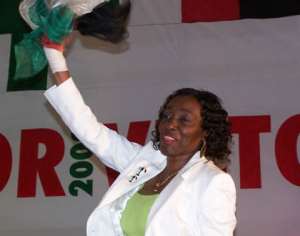 Heritage -- Although Baba Jamal, a deputy general secretary of the NDC has officially denied knowledge, The Heritage can reveal that barring any last minute change of heart, the headquarters of Ghana's biggest opposition party in Ghana would be moved from it's current location to the furbished former Kanda GNTC building, a property which is said to belong to Mrs. Rawlings' 31st December Women's Movement.
Many interpretations have been given by the party's high profile figures of relocation, but most high- pitched among them has been that the former president and his wife are using it as a last ditch effort to consummate their grip on the party after successfully dislocating the former chairman, Dr. Obed Asamoah.
The current building, which has seen arguably one of the worst factional and sectarian free- for- all between the former party chairman and the founder will be abandoned because of paucity of offices combined with almost 300 million cedis that the party owes in rent arrears and other expenses.
The Heritage has gathered that after the fratricidal political war between the two factions within the party has resulted in the ouster of Dr. Asamoah as the chairman of the party, the former president's wife, according to this paper's sources has agreed together with the former president himself to start footing the bills of the party.
New salary structure and new cars are to be provided to the new party chairman and some identifiable members of the executives under the aegis of the former first family.
The new office complex according to the Heritage sources within the party would be furnished with state-of– the– art equipment including new computers, new air conditioners, new fax machines and other necessary equipment needed by a modern political party for a smooth operation.