Nana Akuffo is the man to watch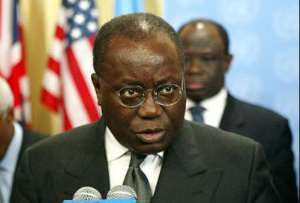 For those who are looking for signs pointing to President Kufuor's successor as the presidential candidate of the New Patriotic Party (NPP), the man to watch is Nana Addo Danquah Akuffo Addo, the Minister of foreign affairs.
He is easily one of the three in the race for the presidential candidature of the NPP with the other two being Mr. Yaw Osafo Maafo, minister of Education and Sports and Dr. Kwame Addo Kufuor, Defence Minister. As at now, Nana Akufo Addo appears to be the least prepared of the three gentlemen but he could spring a surprise.
Sources close to the Akuffo-Addo team told the 'Insight' that "we haven't started our campaign. We are still studying the situation and weighing our options".
Nana Akuffo Addo has confirmed that he is seriously interested in becoming the presidential candidate of the NPP.
In an interview on TV, Nana Akuffo Addo left no one in doubt that he was nursing the ambition to become the President of Ghana.
He contested the NPP primaries before the 2000 elections and was roundly defeated by current President J. A. Kufuor in a contest, which his supporters described as ridden patronage and graft.
Immediately after losing to Mr. Kufuor, Nana Akuffo Addo pledged his support and campaigned vigorously to ensure an NPP victory in the 2000 and 2004 elections.
In the 1992 primaries, Nana Akuffo Addo supported Professor Albert Adu Boahen against President Kufuor in a very keen contest.
Nana Addo's main weakness is that he has still not been able to build a formidable war chest and put in place a working campaign team. His main rivals are believed to be better resourced financially and they have built enviable organizational structures, which are already operational.
Nana Addo also appears to have pitched his tent in the camp of President Kufuor, arguing that his own performance will depend largely on how the current administration delivers or fails to deliver on its promise.
He says that his first commitment is to make sure that Kufuor succeeds as President. This is certainly a very tall order given all the scandals, which have rocked the current administration and the pretty obvious hiccups in the economy.
Opponents of Nana Addo are planning to exploit his social weaknesses, which they say are many and include his near 'reckless association (s) with women.'
The extent to which Nana's opponents may succeed will depend largely on what the public, especially the NPP delegates will consider as most important.
Although Nana Akuffo Addo may not be the most financially resourced presidential aspirant, he is still the man to watch.