Minister advocates youth involvement in AIDS fight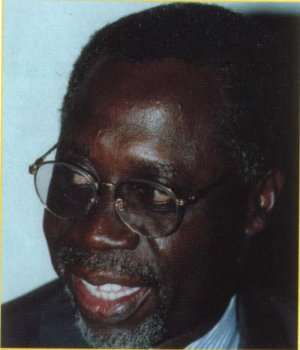 Accra, Jan. 6, GNA - Mr Yaw Osafo-Maafo, Minister of Education and Sports, has advocated the active involvement of the youth in the fight against the HIV/AIDS pandemic. He said the organisation of focus group discussions and other participatory exercises such as story telling and artworks on HIV/AIDS among the youth were good techniques in fighting the pandemic. Mr Osafo Marfo who was opening the ninth annual Peace Corps Ghana Visual Arts Exhibition at the National Museum in Accra on Thursday said young people were growing up in a world where the Acquired Immune Deficiency Syndrome (AIDS), had become part of the socio-sexual environment in which they live.
The exhibition, which ends on January 27,is on the theme: "Art, Loving Life."
"Letting children express their opinions on the pandemic should be the main aim when assessing the influence of HIV)/AIDS programmes," he stressed.
The Minister noted that the best technique to be adopted to achieve this goal was to "organise focus group discussions and other participatory exercises such as peer education, story telling and artworks."
Mr Osafo-Maafo said a major challenge to the fight against HIV/AIDS was the inclusion of young people, in the design and implementation of HIV/AIDS programmes.
He stated: "The United Nations (UN) Convention on the Rights of the Child, 1989, emphasised that children have the right to be heard and that all actions concerning children should be in the best interest of the child."
Dr Prosper Yao Dzamefe, Interim Director of Ghana Museums and Monuments Board, said as an institution, "the museum makes a unique contribution by collecting, preserving, interpreting and providing education to the public on acquired heritage materials of significance." "Historically, we have owned and used natural objects, living and non-living, and all manner of intellectual work such as artefacts to advance knowledge and nourish the human spirit," he added. Dr Dzamefe was of the view that art highlighted the cultural values of people, because it imported beauty and exhibited the creative, intellectual and philosophical potentials of its maker. He described the works of art that were exhibited as visible results of fruitful partnership between the Corps Art Teachers and their students.
Mrs Madeleine Mader, Country Director, U.S. Peace Corps Ghana, said Peace Corps Ghana had over 130 trained Volunteers providing assistance in a variety of sectors including Education, Health, Small enterprise development, Water and Sanitation. Mrs Mader said there were nearly 7,000 volunteers serving in 70 countries.