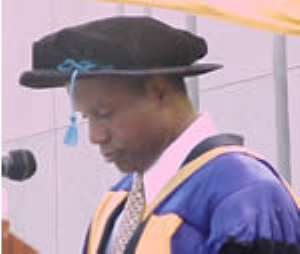 KNUST begins Distance Learning Programme this year Accra, Jan. 5, GNA - The Kwame Nkrumah University of Science and Technology (KNUST) would this year start admitting students for Distance Learning Programme in Mathematics, Building Technology and Computer Engineering. Towards that end, the University would establish an out campus centre in Accra to serve as laboratory for the programmes. Prof Kwesi Andam, Vice Chancellor of KNUST, made the announcement in Accra, while answering questions at a forum, after delivering a paper on: "Science and Technology for National Development" at the 57th Annual New Year School underway at the University of Ghana (UG), Legon. More than 400 participants are attending the weeklong School, an extra mural programme of the Institute of Adult Education of the UG that annually provides a platform for participants to dispassionately discuss topical national issues and offer recommendations. This year's theme is: "Developing the Human Resource for Accelerated National Development."
Prof Andam said KNUST was collaborating with the United States of America (USA) to develop science villages.
Asked why the University was not concentrating on the physical science but was also running social sciences, Prof Andam said the reason was to found the study of the physical sciences on the Liberal Arts to avoid producing straightjacket scientists and engineers.
"We don't want to produce an engineer, who is a homosexual or cannot express himself with the Government or Development Partners.
"We need a College of Social Sciences and Arts to facilitate and strengthen the capacity of our science and technology to function properly."
Prof Andam said it was necessary to educate girls at least to the Senior Secondary School level, and suggested that the huge sums expended on condom adverts could be channelled into training girls to empower them to take care of family life and other population issues. In answer to a question on a challenge thrown to graduate engineers from the KNUST to come out with inventions, Prof Andam called for caution on the debate.
He dared critics to go round the public industrial establishments and utility services to see for themselves the invaluable contributions KNUST products were making to national development. He said: "Nearly 95 per cent of the engineers at Akosombo were trained at the KNUST. All the engineers at Kpong, who bring water to Accra, about 60 kilometres away were trained at the KNUST." Prof Kwabena Frimpong- Boateng, Chief Executive Officer of the Korle-Bu Teaching Hospital, who chaired the forum, said the country needed a science and technology policy for proper placement and categorisation of scientists.