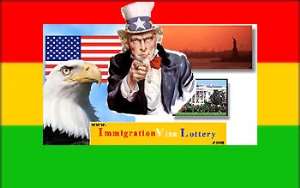 It's is a way of depriving nations of high intellectual capabilities Accra, Jan. 5, GNA - The Unites States of America Visa Lottery is a type of research to identify and attract people with high intellectual capabilities to go and stay and work in that country. The Deputy Minister of Manpower, Youth and Employment, Dr Charles Brimpong-Yeboah has, therefore, called for a second look to be taken of the US Visa Lottery.
Dr Brimpong-Yeboah made the call on Wednesday in a paper on "Addressing the Brain Drain Phenomenon - Harnessing the Potential for National Development" at a symposium at the 57th Annual New Year School, underway at the University of Ghana, Legon.
He urged Ghanaian professionals to practice at home, explaining that financial remittances could never in themselves teach, attend to the sick or undertake any professional activities to bring about national development.
More than 400 participants are attending the weeklong school, organised by the Institute of Adult Education of the University on the broad theme: "Developing the Human Resource for Accelerated National Development."
Dr Brimpong Yeboah said the brain drain heightened the dependence on foreign skills that were rather more expensive.
He said the International Migration Organisation figures indicated that there were 216,425 migrants from Africa in Canada alone in the year 2001,and there are at present 1,200 Ghanaian medical workers in the USA, adding that low remuneration for work done, particularly in the public sector was the main driving force behind the brain drain. He stated, however, that the brain drain had some positive aspects as acquisition of higher levels of knowledge and skills that were not locally available, financial returns and remittances and the setting up of consultancies.
The Deputy Minister said professionals could not be restricted because of ECOWAS protocols and constitutional provisions that allowed for free movement of people and factors of production and choice of where one wanted to work.
Also political instability and inconsistencies in policy direction fuelled the brain drain, the Deputy Minister said, and announced that Government was stabilising the economy and also introducing salary reforms as part of measures to stem the brain drain.
Dr Brimpong-Yeboah said supplier nations of skilled labour should reach bilateral agreements with receiver nations for professionals to return and practice in their home countries after some time as recommended by the African and European Unions.
Prof Yaw Adu-Gyamfi, former President of the Ghana Medical Association, painted a dark picture on the exodus of Ghanaian health professionals.
He re-echoed words he attributed to Mr Mats Karlson, World Bank Country Director, that Ghana abounded in human capital, which he called "human gold" and said these must be retained if the country were to achieve the Millennium Development Goals and become a Middle Income Nation by the year 2015.
Prof Adu-Gyamfi described the level of the shortage of health professionals as a crisis, and said the situation would worsen as the developed world looked to Africa to fill expected shortage of its health personnel.
He called for adequate incentives and specialised training opportunities locally for doctors, as well as a review of Ghana's health policy.
A first class post-graduate medical training institution should be established and doctors should be provided with good and enough accommodation at the districts, Prof Adu-Gyamfi said and further suggested re-engagement of retired medical personnel to beef up the staff at health institutions.
Dr Kwaku Baprui Asante, a Retired Diplomat, who chaired the symposium, observed that the brain drain also affected tradesmen like plumbers and electricians.
"I know of a very good electrician. I did not see him for some time. The next time I asked of him, I was told he had gone to Libya", Dr Asante said.
He called for a move away from palliatives to bold action to address the brain drain, adding that the proposal that Ghanaians who had stayed abroad and returned to work in Ghana should be given higher pay should be abandoned.
The School continues.