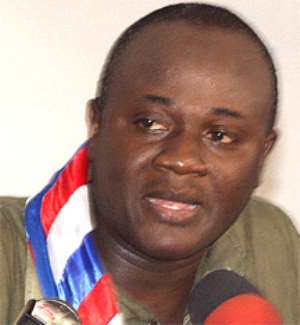 ...Replaced By Kabral The Ghanaian Lens -- Mr. John Agyekum Kufuor, the President of Ghana is widely expected to announce changes in his government in the next few weeks and as was to be expected, there are serious jostling in both the party and government by powerful interests to have their favourites appointed to key ministerial positions.
The Ghanaian Lens has learnt that one of the persons most likely to lose his current portfolio is Information Minister, Hon. Dan Botwe. Kabral Blay Amihere is said to have been penciled in as the most likely replacement for Dan Botwe at the Information Ministry.
Credible information available to the Ghanaian Lens has it that President Kufuor, who is said to be smarting from the humiliation Dan Botwe handed him by masterminding the defeat of almost all the President's preferred candidates for national executive positions in the NPP at the party's recent conference at Legon is being goaded by certain powerful elements in the NPP to, as it were, clip Dan Botwe's wings.
"Certain powerful interests, some of who have their eyes set on the presidential candidacy for the NPP for the 2008 elections are not too happy with what they see as Dan Botwe's continued domineering influence over the party. Some of them even believe that the 'General' (Dan Botwe) has presidential ambitions and they are fearful that his influence over the party could easily see him elected as flagbearer for the NPP over them," an unimpeachable source close to the presidency revealed to the Ghanaian Lens. Dan Botwe is often referred to as General in the NPP, a designation that apparently flows from his previous position as the General Secretary of the party.
"Dan has become the infant terrible in the NPP. They are afraid of him, only they do not know how to deal with him, the source revealed.