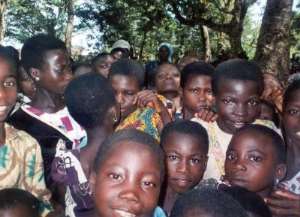 Amasaman (G/A), Dec. 29 GNA - Mrs Victoria Opoku, Ga West District Director of Education, has appealed to parents to desist from trafficking their children. They should also not allow their children of school-going age to engage in stone cracking and sand winning activities.
Mrs Opoku, who was speaking at the inauguration of a block of two classrooms for the local Federation of Muslim Women's Association of Ghana (FOMWAG) English/Arabic Nursery School at Amasaman, urged parents to rather invest in the education of their children. She said due to child trafficking, stone cracking and sand winning activities in the area children of school-going age in Okishibiade and Dome Faase were not in the classrooms even though the Government had provided adequate school structures in the area.
Hajia Samia Ali Masri, an Executive Member of FOMWAG, who chaired the function, said pushing girls into trading and early marriage after completing Makarantah school were the bane of Muslim communities. She stressed the need to allow girls to avail themselves of formal education so that they could function effectively in modern day society.