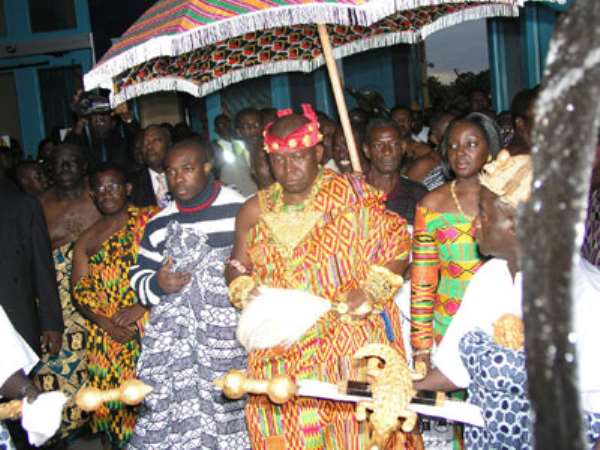 The Asantehene, Otumfuo Osei Tutu II, has called on the government to consider appointing a minister responsible for chieftaincy affairs.
He said the appointment of the minister would give them a mouthpiece in government to help address some of the problems confronting the chieftaincy institution.
Addressing the end-of-year meeting of the Ashanti Regional House of Chiefs in Kumasi yesterday, Otumfuo Osei Tutu said for instance that the Ashanti Regional house of Chiefs was finding it difficult to get the government to release ¢500 million due the House, to complete the construction of its office building which he said, had remained abandoned for some time now.
The Asantehene said the chieftaincy institution was grappling with several problems when overlooked would demean the institution.
"There is the need for government to seriously look at the issues affecting chieftaincy if it really considers chiefs as partners in development", he noted.
He advised chiefs to desist from begging governments for development projects and emphasised that "it is our right as well as the right of our subjects to demand for what belonged to us because we are all tax payers."
Commenting on the activities of the House, Otumfuo Osei Tutu expressed concern about absenteeism on the part of some prominent members of the House and urged those who had been appointed to various committees of the House to do all they could to enhance the development of the Asante kingdom.
Otumfuo Osei Tutu also advised members of the committees to constantly report back to the House about developments in their committees so that the House could be well informed to be able to take decisions on issues concerning Asanteman.
He further cited instances when the judicial committee of the House had inappropriately pronounced judgments on certain cases which had led to conflicts, adding that "those of you serving on the judicial committee must do well to avoid all forms of underhand dealings."
On the payment of royalties, Otumfuo Osei Tutu said it had reached a point when the government must justify why 60 per cent of revenue accrued from forest resources should be paid to the commission.
He also stressed the need for the district assemblies to account for the 55 percent of revenue generated from the royalties but which was given to the assemblies.
"This is because inspite of all the support we are according the assemblies, it is still not pulling its weight in terms of waste management among other development programmes" Otumfuo stated.