Former First Lady bogeys at Congress.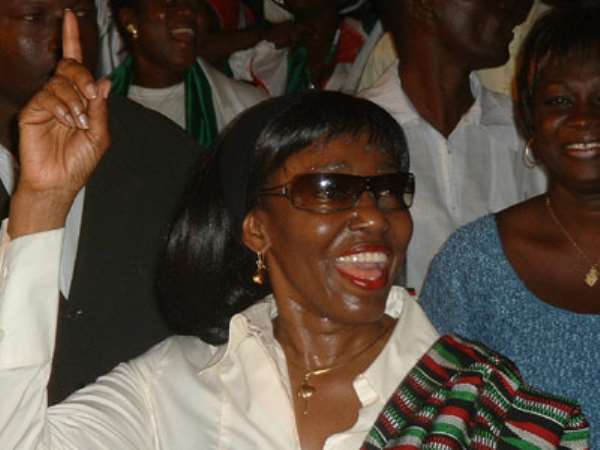 Koforidua, Dec. 23, GNA - Dexterously dancing to the tunes of hip-life music, former First Lady, Nana Konadu Agyeman Rawlings, on Friday, held spectators spellbound during a brief lull that interrupted the gruelling voting procedure for various positions of the National Executive Committee (NEC) of the National Democratic Congress (NDC) at their congress underway at Koforidua.
Voting, which began around 1900 hours the previous day, went on until about 1400 hours on Friday and during the intermission, spinning of hip-life music took centre stage and the Former First Lady wasted no moment in hurrying to the stage to showcase her skills.
Donning a cut-to-fit trousers with matching jackets, Mrs. Rawlings, with a plomb laughter and definitely at ease with the crowd, danced to the tune of Lucky Mensah's 'Come back to me' song, which could obviously be described as the unofficial anthem of the congress. Security men guarding leading members of the party near where the Former First Lady was bogeying, made way for her sympathizers who joined her on the floor.
The momentary dancing period was an elixir, for many delegates and the media men covering the procedures since it broke the tedium associated with the tenuous voting procedure.
Outside the conference venue, various Northern dancing groups entertained energy-wearied party faithful who were eagerly awaiting the collation of the voting results.
Whilst traders made brisk business, some delegates lay on the well-manicured lawns of EREDEC Hotel to catch some rest but were often interrupted by space-space operators advertising their services and the honking of horns by iced-cream sellers.
The sheer number of delegates and observers to the congress also had its toll on the greenery of the area as some flowers succumbed to the human drudgery and litter strewn across the entire lawn.