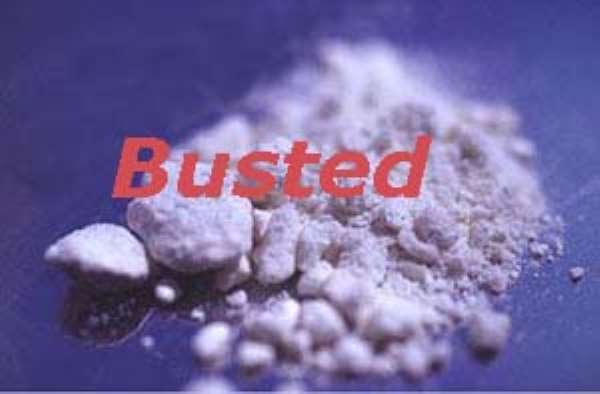 Andrew E. Jonah, son of gold mining magnate, Dr. Son Jonah is in a very deep trouble. A grand jury in Georgia, Atlanta, USA has charged him and 150 others with 24-counts of possession and distribution of various narcotics substances, illegal transfer of monies and possession of fire arms.
Grand jury documents available to the Insight say the narcotic substances which the accused dealt in are marijuana, cocaine, heroine and methylenedioxyme thaphetamine or ecstasy.
The accused persons are also alleged to have transferred various sums of monies illegally to accounts in Canada and England. Others charged with Mr. Jonah alias 'Rain' or 'Busy' include Kwame M. Amo, Jonathan Laryea, Akwasi Dankwa, Abigail Andre Anael Kuevidjen, Herbert Laryea, Douglas Peter Tetteh Laryea and Bernard Degraft.
The others are Prosper Senyo Kudzo Coker-Ofori, Fred Richardson, Ricardo Wilson, Vincent Tyrone Rogers, Vernis Rochel Williams, John Spios and George Richardson. The prosecution is asking the confiscation of properties owned by the accused persons and which are allegedly used in the commission of the crime. They include a 2002 Audi TT Quatro, a 1996 Mercedez Benz C220, a 1998 Lincoln Town car and a 2004 Porsche Cayenne.
House number 4271 Glen Visa Court, Duluth, Georgia, and House Number 532 Owo Creek Drive, Powder Springs, Cobb Country, Georgia, have also been recommended for seizure as well as some identified lands in Georgia. The prosecution is also asking for the confiscation of cash of $1,310,000.
The prosecution is also asking for the confiscation of deposits in several bank accounts. All accused persons have pleaded not guilty and a trial date is yet to be fixed. The cases of Jonah and Amoateng, Member of Parliament have put the spotlight on Ghana as a major transit point in the narcotic business. Within five years, more than 40 persons arrested for various drug offences have absconded. They include three women who are alleged to be members of the New Patriotic Party.