Should Bernard Antwi-Bosiako & Co Be Charged With High Treason - For Conspiring To Sieze Control Of Ghana's National Security Apparatus?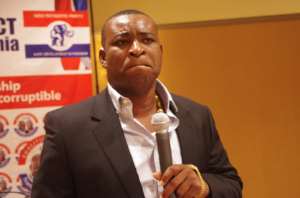 Will the sovereign people of Ghana, finally succeed in forcing their country's political class, to disband all the privately-owned paramilitary groups, which are associated with their nation's political parties?
One certainly hopes so - since disbanding and outlawing such paramilitary groups, will help ensure peaceful presidential and parliamentary elections in November 2020: and thus ensure the continued stability of our dear nation.
As it happens, for many ordinary Ghanaian citizens, today, it is irritating in the extreme that moderates in the governing New Patriotic Party (NPP), and the country's biggest opposition party, the National Democratic Congress (NDC), are failing to take advantage of the new national mood, which has suddenly swung against politically-inspired violence - and against verbally-aggressive politicians, who control the privately-owned paramilitary groups, which are affiliated to political parties in this country.
The NPP, for example, must quickly rid itself of uncouth and verbally-aggressive individuals, such as Bernard Antwi-Boasiako. That arrogant buffoon, was reported to have said recently - in response to accusations that he appears in Tiger Eye Private Investigators' documetary on shennanigans in the gold mining sector - that if he decides to mine gold, no one in Ghana can stop him from doing so. Incredible.
The Bernard Antwi-Bosiakos in our midst must be told to the face that they are not above the laws of our homeland Ghana. Who born dog? Is this not a nation in which the rule of law prevails? Haaba.
For their information, Ghana has neither been conquered by the NPP, nor its ever-patient people vanquished by Bernard Antwi-Boasiako & Co - who must be tried for high treason, for conspiring to transform privately-owned paramilitary groups, into National Security SWAT Teams: to enable them engineer a stealth-takeover of our national security apparatus with legal cover, for their own ends: enabling the NPP rule Ghana for the next thirty years.