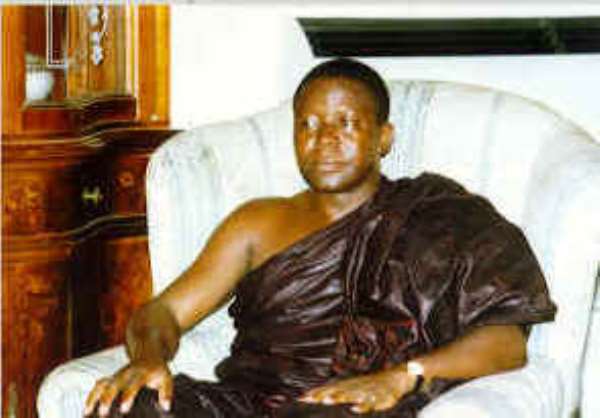 Kumasi, December 18, GNA - Otumfuo Osei Tutu II, Asantehene, has assured all ethnic groups resident in Ashanti region of the warm hospitality of the Asantes and the continuous efforts at creating a conducive atmosphere for their full integration into the region. The Asantehene said the determination of the Asante Kingdom to have cordial links with other groups and facilitate their settlement in Asanteman is amply demonstrated in the creation of suburbs like Anloga, Fante New Town and Sabon Zongo, all in Kumasi.
The Asantehene's assurance was contained in a message delivered for him by Nana Frimpong, Paramount Chief of Domeabra Traditional Area at a grand durbar, held by the Voltarians Co-ordinating Council (VCC)in Kumasi recently, as part of activities marking the a year-long celebration of the Amusa Festival.
The Amusa festival is a festival of people of the Volta Region. The festival which is the first of its kind to be staged outside the Volta Region involved a series of events, including, mystic displays, traditional drumming, dancing and display, fire procession, lectures, clean-up exercises and events to remember fallen heroes from the Volta region.
Otumfuo Osei Tutu asked the Voltarians, to perceive themselves as part of the large family of Asanteman and to therefore feel confident and free to seek for support and assistance from the chiefs should the need arise.
A message delivered by Mama Asegle Dorkua, Queenmother of Tefle Traditional Area, on behalf of Former President Jerry John Rawlings, advised Ghanaians irrespective of where they resided to respect, traditional authorities, laws of the land and culture of the area. He said these were crucial ingredients for development and should not be relegated to the background but upheld at all times. The former President stressed the need for parents not to discriminate against their girl-children when it comes to the issue of education but rather give equal access to both sexes to pursue their education.
Togbe S.K. Fugah, President of the VCC, strongly appealed to all Voltarians resident in the Ashanti region to join the VCC and cease perceving it as a platform for divisive tendencies. Contrary to such a perception, the VCC, established 12 years ago has an objective of fostering unity among Voltarians and facilitating development, Togbe Fugah added.
On his part, Adzonuga Amenya Fiti V, Fiaga of Aflao Traditional Area made it clear that Ewes and Asantes have been allies since time immemorial.
"This development is a unique heritage for Ewes and Asantes to preserve, no matter how difficult the circumstances may be", he stressed.
He said, "Our great traditional leaders from different ethnic groups demonstrated this unity and equality by forming the National House of Chiefs, with Kumasi as the Head Office".