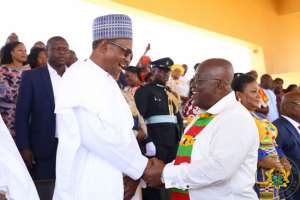 Shortly after the 2015 Nigerian General Elections, I wrote an article titled "Ghana's 2016 General Elections In The Light Of President Muhammadu Buhari's Resounding Victory" in which I made extrapolations based on the very unique and similar parameters that were major highlights in the run-up to both elections.
Read More: Ghana's 2016 General Elections In The Light Of Muhammadu Buhari's Resounding Victory
At that time, some critics of my article were so dismissive of the methodology employed in my analysis describing it as 'too simplistic' but failed to state specific reasons why my analysis was likely not to reflect in Ghana's 2016 general elections. Today, following President Muhammadu Buhari's resounding successful re-election into office, I wish to present to you the second edition of my previous article and how it correlates with Ghana's 2020 elections.
In 2015, Nigeria, a country sharply divided into the Northern and Southern sectors based on religion and ethnic lines was faced with a very tense contest between candidates who come from two different ethnic and religious backgrounds.
The situation was not much different in Ghana during the 2016 General elections where the two main candidates were from the Northern and Southern sectors. The incumbent regimes in both countries realizing how unpopular they had become and the mass cry for change that was resonating decided to hinge their campaigns primarily on vile propaganda targeted at their opponents who were at that time in opposition.
In my previous article, I discussed how the vile propaganda woefully failed to inure to the benefit of its proponents against Muhammadu Buhari hence the need for Ghanaians to disregard same tactics that were employed against then candidte Nana Akufo-Addo. I will recap two of them for the sake of brevity. Firstly, the age factor was a major campaign tool that was used against both Muhammadu Buhari of Nigeria and Ghana's Nana Akufo-Addo. Being old was bastardized as though it equated to mental incapacitation and it was posited that the much younger (compared to their opponents) incumbent Presidents should be elected because the roles at the Presidency required youthfulness and not old age. The electorate however, realizing how the so-called younger incumbent Presidents had mismanaged their respective countries with series of corruption cases disregarded such messages and voted massively for those regarded as old. Interestingly, the issue of age did not feature in the 2019 Nigerian elections and I am very sure it will not feature in Ghana's elections next year because those deemed old have admirably executed their duties better than the 'younger' ones did when they were in office.
Another ploy was the fake tag of tribalism and violence that was almost successfully placed on both of them (President Buhari and President Nana Akufo-Addo). President Buhari was said to be a tribalist and a religious fanatic who had advanced plans to positively skew the distribution of State resources to Northern Nigeria. He was also falsely accused of funding the Boko Haram terrorist group. However, his zeal and determination towards fighting the Boko Haram insurgency since he won the elections has been remarkable and this has caused his opponents to abandon their vile propaganda in the run up to the 2019 elections. The situation was not different for his Ghanaian counterpart President Nana Akufo-Addo. Prior to the 2016 elections and even earlier, his opponents carefully hatched a plot against him and accused him of tribalism. They tried to pitch people from Ashanti Region which is the 'world bank' of the NPP against him because he is from the Eastern Region. They further tried to pitch him against the Ga ethnic group by saying he was planning to relocate the seat of Government to his hometown of Kibi. Also, they tried to cause disaffection for him in the Northern region by claiming he was planning to favor the Abudu Royal gate who are seen as pro-NPP by granting them the Kingship. Unfortunately for his opponents, neither of these demographies fell for their false propaganda. In fact, he proved his critics wrong after he won the elections by implementing, without fear or favor, the Dagbon road map to peace which was reached by the 3 eminent Kings. His boldness, decisiveness and justice in solving this issue that had been a major 'headache' for all Ghainaisns earned him a lot of respect and admiration from some people who hitherto had fallen for the vile propaganda against him.
In preparation for the 2019 and 2020 elections of Nigeria and Ghana respectively and upon realizing that their plots had failed them badly because of how the duo (President Buhari and President Akufo-Addo) had refuted their false accusations by way of their excellent conduct as Presidents, their opponents decided to invent a new plot, which on the surface seems true but false upon further scrutiny.
Barely a month after President Buhari assumed office as President of Nigeria, there were wide spread video reports and articles from people who had puportedly voted for him expressing their regrets for doing so. In fact, some even went ahead calling for what Ghanaians describe as "Sankofa" wishing that the defeated Goodluck Jonathan should have been elected. Some key politicians of the ruling APC party who, out of selfishness also fell out and joined the opposition PDP. With the PDP candidate Atiku hailing from the North just as Buhari, the propagandist said he will share a significant portion of the Northern votes with President Buhari and then coupled with the false perception of the mass apathy, emerge as the winner. However they were disappointed in their estimates and false propaganda after President Buhari won the elections with a very wide margin.
A careful observer will realize that the above trend is not different in relation to Ghana. The same propaganda about a non-existent mass apathy and regret for voting President Akufo-Addo coupled with a false call for the return of ex-President John Mahama is the key message championed by the opposition NDC and perhaps some few greedy people like A-Plus et al who claim allegiance to the NPP.
Let it be known that just as it failed in Nigeria where the parameters like Atiku's Northern lineage was a strong challenge for President Buhari, this false propaganda and scheme is bound to fail here in Ghana in 2020 In Shaa Allah particularly considering how God has made it easy for President Akufo-Addo and his Government to fulfil key campaign promises aimed at improving lives and positively transforming Ghana forward. Nonetheless, I urge the Government to be relentless in executing the mandate given them by the good people of Ghana. The NPP as a party should also strategize very well towards the 2020 elections and work hard until victory is achieved. There should be no room for complacency.
Thank you
Written by:
Dr. Issah Imoro