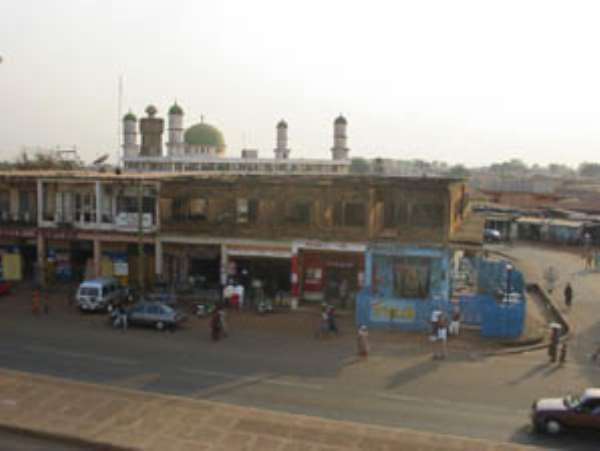 Accra, Dec. 13, GNA - Tamale, capital city of the Northern Region, is reeling under acute water shortage crises, two members of Parliament for the area told Journalists in Accra. "Children report to school after nine o'clock in the morning because they have to spend the dawn hours looking for water. Sanitation in the city is at its lowest ebb. " Alhaji Abukari Sumani, Member for Tamale North and Mr Haruna Iddrisu, Member for Tamale South, said if urgent steps were not taken, the situation could lead to disastrous consequences. They said most of the health facilities in and around the city could not function properly due to the water shortage.
According to the Members, the perception held by the residents of Tamale was that the Government was punishing them by not providing tanker services because they voted against the ruling Party in the last general election. "They feel they are being left out of the development plan of the country because they voted against NPP in 2004." The members said there had been several promises since 2001 but nothing had been done about the water situation. They called for an immediate solution to the water problem, which they said was capable of bringing life in the sprawling northern city at a standstill.
In an interview with the GNA, Mr Mustapha Zakaria Civse, Special Assistant to the Minister of Water Resources, Works and Housing, said the Government was deeply concerned about the water situation in Tamale and had instituted a number of measures to solve the problem. He said as an interim measure, the Ghana Water Company Limited was rehabilitating pumps at the water intake point at Dalun and the treatment plant at Nawuni to restore normal water supply to Tamale. He said the Regional Ghana Water Company in Tamale had been given funds to hire private water tankers to ensure enough supply of water to the people until the problem was solved
In the long-term the Government with funding from the Dutch Government had contracted Biwater International Company to rehabilitate the Tamale water supply system at a cost of 54 million Euros. Biwater Company would install pumps capable of pumping 9.6 million gallons of water per day for distribution and another 1.1 million gallons into reservoirs. In addition a booster station would be built to ensure that there was no water shortage in Tamale. The project would take off in early 2006 and would be completed in two years. Mr Civse expressed regret about statement that the Government was punishing the people of Tamale for not voting for it. "Government would do her best to ensure that every citizen enjoys basic facilities," he said.