Systematic Human Rights violation still persistent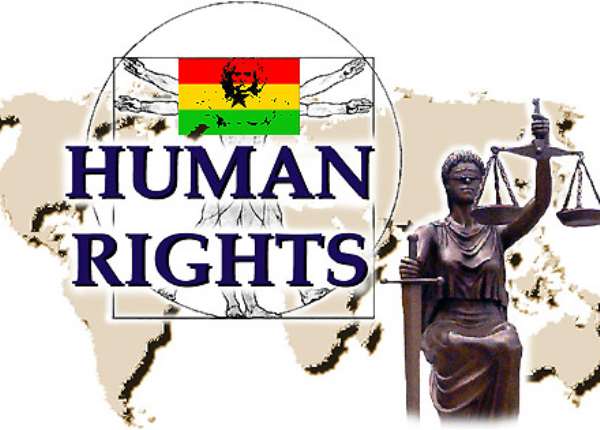 Accra, Dec. 13, GNA - Extra judicial killings, torture and detention without trial as systematic human rights violation still occurs in Ghana...although we are in a constitutional era, Nana Oye Lithur, Executive Director of the Commonwealth Human Rights Institute (CHRI), on Tuesday noted. She said the persistence of human right violations in the post-National Reconciliation Commission (NRC) era called for concern, if another NRC were to be prevented in the future.
Nana Lithur was speaking at a public education forum on the NRC report during which a 27-page abridged and popular version of the six voluminous NRC reports, put together by the Ghana Centre for Democratic Development (CDD-Ghana) and the Civil Society Coalition on National Reconciliation (CSCNR) was launched. The abridged version was captioned "Never Again".
Nana Lithur said the reports from the Commission on Human Rights and Administrative Justice (CHRAJ) and the US Department of State Country Report (US-SDCR) on human rights practices for Ghana between 2000 and 2004 indicated that systematic human rights violations was still with us. She said the 2004 CHRAJ report stated that more than 700 prisoners were on remand at the James Fort Prison; 399 prisoners were on remand at the Kumasi Central Prisons and the US-SDCR on Ghana for the same year also stated that there were 1,270 remand prisoners in Ghana whose warrants had expired.
"The US-SDCR also states that 20 per cent or approximately 2,000 of the 9,783 inmates nationwide were remand prisoners," she said. Additionally, Nana Lithur noted that the report identified several cases of arbitrary arrests and detention including detention without charge for longer than 48 hours, failure to obtain a warrant for arrest, failure to routinely notify prisoners' families of their incarceration among other things. She said the reports also noted that security forces were still involved in extra judicial killings, adding that during the period under review, there had been fatal political clashes, which also resulted in injuries and damage to property. "Another violation of the right to life by non-state actors was the activities of armed robbers and cases of vigilante style (instant justice), conducted by citizens and mobs on suspected criminal and suspected witches leading to a number of deaths," she said.
Social Forum NRC 2 Accra Nana Lithur noted that the spate of human rights violation in the face of the 1992 Constitution, which elaborated the most comprehensive human rights protection framework called for vigorous public education on human rights issues. She said the National Commission on Civic Education (NCCE), charged with public education of the provisions of the Constitution, should be strengthened to carry out its work effectively.
"Human rights education is recommended for the Judiciary - curricula of journalism training schools should be reviewed to include human rights education and Prison Officers should be given human rights education to enable them to appreciate the rights of prisoners," she said.
Dr Ken Attafuah, Executive Secretary of the NRC, who now lectures at Ghana Institute of Management and Administration (GIMPA) described the NRC report as satisfactory, saying that it covered every tinny bit of the legal mandate of the Commission and it articulated the concerns and aspirations of the victims. He indicated that out of 4,240 petitions presented to the Commission, it heard and fully dealt with 1,866 cases, saying that statistically that was high as compared to the figures in other jurisdictions.
Dr Attafuah, however, noted that the compensation suggestion list in the report covered all 4,240 petitions, including even those, which were not heard, due to various reasons. He mentioned some of the reasons for which some petitions were not heard in public nor in camera as unwillingness of some complainants to testify, the demise of some witness before they could be heard among other reasons, saying that besides, it was impossible to hear all the cases.
Professor Kofi Gyimah-Boadi, Executive Director of CDD-Ghana, said the popular version was also translated into five local dialects, namely Ga, Akan, Ewe, Hausa and Dagbani, adding that today's launch was the fourth in the series, the first three being at Ho, Takoradi and Kumasi. He said the abridged version would be distributed in schools, hotels, restaurants, libraries, shops and as many avenues as possible to make it easily accessible to the general public. Mr Eric Darko from the International Centre for Transitional Justice, New York, said it was interesting that though the voluminous version of the NRC report was on the Internet for free downloading, Ghanaians still complained of its non-availability.
Participants at the forum insisted that the existence of the NRC report was not enough to ensure peace and harmony if its recommendation were not implemented to ensure that justice was done to victims. They also cautioned that efforts should be put in place to check post-NRC human rights violations to prevent another NRC in the future. Mr Justice V. C .R .A. C Crabbe, who presided, urged Ghanaians to take active steps in fighting for their rights, saying "justice never comes to an individual if he/she sat down and waited for it."