Corporate Tax reduction takes off in Jan. 2006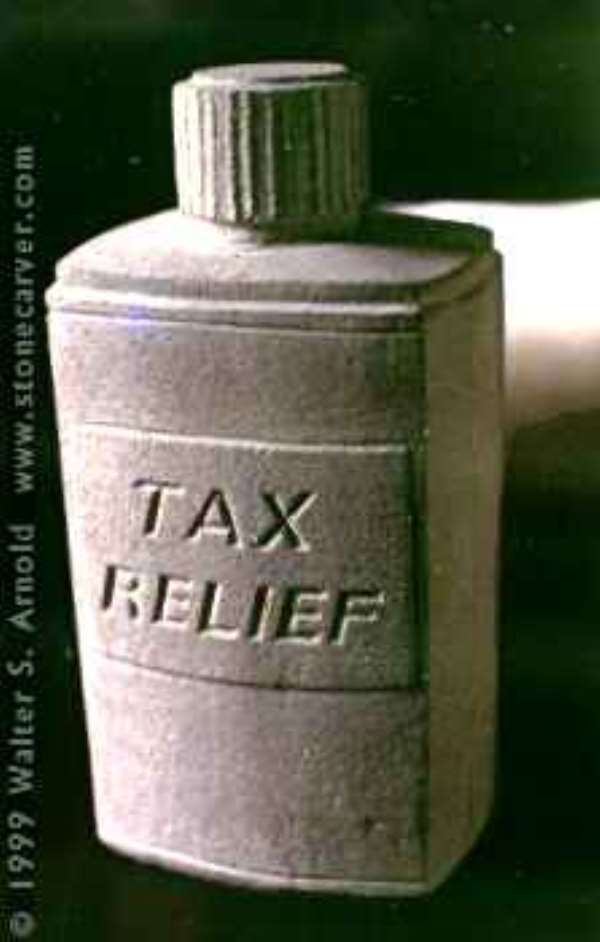 Nsuta-Wassa (W/R) Dec 11, GNA - The Government has decided to reduce Corporate Tax from 28% to 25% with effect from January 2006 to stimulate rapid growth through the Private Sector. This would complement the reduction in National Reconstruction Levy Rates to release more resources to the Private Sector for expansion and creation of jobs.
Prof Dominic Fobih, Minister of Lands Forestry and Mines disclosed these at a durbar of chiefs and people to climax the activities marking the 10th Anniversary celebration of Ghana Manganese Company (GMC) at Nsuta-Wassa on Saturday. The present Management took over the running of the Company in 1995 when it was divested. The celebration was themed: "A Mine Transformed". Prof. Fobih told GMC to take advantage of these and other measures to improve upon its operational efficiency and thereby contribute towards the development of Ghana as well as ensuring good returns on investment in the Mine. He said the event marks the crowning of the success story of the company, adding, the company which could barely produce 200,000 tonnes of manganese annually before the present Management took over, has increased its production to one point seven million tones (1.7 million tones) this year.
The Minister said this was "as a result of prudent financial management, good corporate management, good planning, efficient and effective strategies, best environmental, health and safety practices and responsible mining". He said the University of Mines and Technology (UMaT) was established by the Ghana Chamber of Mines to train middle level Management staff for the Mines but today the it has gained international recognition and is unlikely to serve the purpose of the Mines.
Prof Fobih therefore proposed that the cluster of mines around Tarkwa to initiate a move to help establish an Information Technology-based Technical Institute to train the youth around Tarkwa in vocations that would get them permanent jobs in the Mines and service industries. This, he said, would go a long way to reduce the galamsey menace in the area. While praising the Management on its achievement, Prof Fobih reiterated his concern for clean operations by mining Companies, adding, "the companies should conduct their operations devoid of negative effects such as degradation of the environment, pollution and destruction of water bodies and generally poor infrastructure and socio-economic developments in mining areas".
Miss Sophia Horner-Sam, deputy western regional minister cautioned GMC not to be complacent on the accounts of the achievements made but on the contrary, the achievements should serve as a challenge for it to work harder so that the gains made could be sustained. She drew the attention of the gathering of the fact that HIV/AIDS was still a problem to contend with, saying if development agenda should be on course, it needed human resources. "Unfortunately, it is the very young and energetic ones who are mostly affected by the disease and therefore we have a big responsibility to stem the spread of the disease". Miss Horner-Sam added.
Mr Jurgen Eijendaal, Managing Director, GMC, said his company has made bold efforts and tremendous strides in achieving its aims and objectives. He said GMC has maintained standards of quality and quantity of production efficiently and effectively, increased investment in mining equipment and infrastructure, adding that, all these were done in a socially responsible manner. Mr Eijendaal said GMC was responsive to all the suggestions and recommendations made by Environmental Protection Agency (EPA) and that made the company won two awards in 2003 and 2004 for being Most Environmental Committed Company in Ghana and Environmental Stewardship Mining respectively.
His Eminence Cardinal Peter Appiah Turkson, Catholic Church, who chaired the function, commended Management, the workers, chiefs and all stakeholders for their contributions towards the success story of the Mine, saying, "you are indispensable pillars of the achievements of GMC. His Eminence Cardinal Appiah Turkson, who was born and stayed at Nsuta until age 22, assured the Management of his support through prayers to enable GMC chalk more successes. Among those present at the function were Miss Joyce Aryee, Chief Executive Officer, Ghana Chamber of Mines, Prof Ameyaw Ekumfi, Minister of Ports, Harbours and Railways, Mr Prince Ankra, Acting General Secretary, Ghana Mine Workers Union, and Osagyefo Kwamina Enimil, Paramount Chief of Wassa Fiase Traditional Area. Some workers were awarded for long service and meritorious duties to the Mine.