Afenyo-Markin May Not Be Good Friends with Kennedy Agyapong and Anas, After All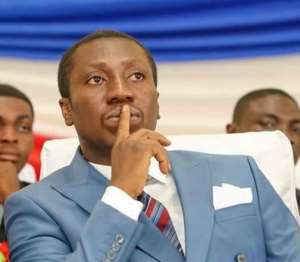 He is very vocal and a fixture in the local media; he also claims to be good friends with his fellow New Patriotic Party (NPP) parliamentarian, namely, Mr. Kennedy Ohene Agyapong, the NPP's Member of Parliament for Assin-Central, in the Central Region. Mr. Alexander Afenyo-Markin, a legal practitioner of remarkable renown, is also the New Patriotic Party's Member of Parliament for the Effutu Constituency, also in the Central Region. We must also quickly note that Mr. Afenyo-Markin has represented Mr. Agyapong, as the latter's counsel or attorney before the Parliamentary Privileges Committee, if I recall accurately. Back then, Mr. Agyapong had been brought up on charges of "unparliamentary behavior" and conduct by Mr. Mubarak Mohammed Muntaka, the National Democratic Congress' Parliamentary Minority Chief Whip. I don't quite recall the details of that case, but what is important to underscore here is that Mr. Afenyo-Markin is highly likely to be aware of the reckless pronouncements of his legislative friend and aisle-mate, including the extensive broadcast display of the photographs of Mr. Ahmed Hussein-Suale, which may very well have significantly contributed to the Mafia-style shooting death of the former employee of the Anas Aremeyaw Anas-owned Tiger-Eye PI team of private investigators on the night of Wednesday, January 16, 2019.
What I am obviously alluding to here is the fact that if, indeed, as Mr. Afenyo-Markin claims, he is really good friends with the hip-shooting owner of the NET 2 TV Station, and other radio stations around the country, then at some point when the dangerous game that Mr. Agyapong was playing with the life of Mr. Hussein-Suale became clear to all, the general Ghanaian public, that is, Mr. Afenyo-Markin could have at least pulled his legislative friend and colleague aside and soberly cautioned Mr. Agyapong about the circumstantial possibility of his virulently defamatory broadcast of the photographs of Mr. Hussein-Suale culminating in the aforementioned tragic event of the night of January 16, 2019, when Mr. Hussein-Suale was allegedly summarily executed, Mafia-style, by two still-unidentified men spotted by eyewitnesses on a motorbike. Mr. Afenyo-Markin does not appear to me to have cautioned his friend against the reckless endangerment of the life of Mr. Hussein-Suale; which ought to inform the general Ghanaian public that, after all, while, indeed, Messrs. Afenyo-Markin and Agyapong were widely known acquaintances, nevertheless, it clearly appears that the two men were not the sort of "good friends" or "buddies," in New Yorkese or New York-Speak, that the Winneba legislator claims the two gentlemen to be or to have been.
Similarly, if he were good friends with Mr. Anas Aremeyaw Anas, as he equally claims to have been for quite sometime now, Mr. Afenyo-Markin would have advised the Tiger-Eye PI proprietor to be careful not to unduly prejudice police investigations by promptly publishing some of the negative broadcast material put into the public domain by Mr. Agyapong that may or may not have led to the shooting death of Mr. Hussein-Suale that fateful Wednesday night. As a professionally trained journalist and a lawyer, Mr. Anas Aremeyaw Anas ought to have known better than to so rashly presume to prejudice public opinion and police investigations by jumping to conclusions even long before full investigations into the murder of Mr. Hussein-Suale had begun. There are real problems here; and it is that absolutely nobody can be accused of attempting to scapegoat Mr. Agyapong, when it is quite clear that he had full knowledge or awareness of the endgame of his defamatory or negative publicity on the brutally slain man.
In other words, Mr. Agyapong is inescapably a scapegoat of his own making. And if he ends up deeply suffering or dearly paying for his reckless behavior, he has absolutely nobody else but himself to blame. The same equation goes for Mr. Anas, who well appears to believe and think that promptly and intensely focusing public anger and revulsion on Mr. Agyapong would, somehow, take the heat of the same focus off himself and his Tiger-Eye PI employees and associates. You see, among the Akan majority Ghanaian populace, we have a saying that: "The beast that will unleash that deadly bite, often lurks in the frills/hemming of one's own cloth." Put succinctly in another way, "Your best friend could very well become your worst enemy" within a split-second. On the latter count, at least one former employee of Mr. Anas' who spoke anonymously to Mr. Ernest Adakabre Frimpong-Manso, about a couple of weeks ago, was emphatic about the fact that the kind of fate that befell Mr. Hussein-Suale on the night of Wednesday, January 16, 2019, is not beyond the capacity and capabilities of the operatives of the Tiger-Eye PI team of investigators. By all means, let's hold off, reserve our prejudicial comments and remarks, keep our fingers crossed and see what police investigators eventually come up with.
*Visit my blog at: kwameokoampaahoofe.wordpress.com Ghanaffairs
By Kwame Okoampa-Ahoofe, Jr., PhD
English Department, SUNY-Nassau
Garden City, New York
February 10, 2019
E-mail: [email protected]