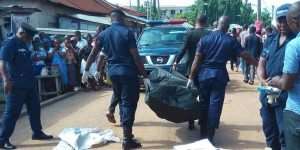 The Police in the Upper West Region have arrested two people in connection with clashes in Funsi in the Wa East municipality which led to the death of one person over the weekend.
The clashes ensued when some residents, acting on the orders of the assemblyman attempted to prevent some illegal lumberers from felling rosewood at a forest in the town last Saturday.
In the process, one of the illegal lumbers was shot dead while three others sustained gunshot wounds.
Confirming the incident to Citi News, the Deputy Upper West Regional Police Commander, ACP Peter Ndekugre, said a search is ongoing to find the other suspects.
"People went into the forest and felled the trees and they wanted to transport them away. The assemblyman organized men to go and seize the wood."
"In the process of seizing the wood, there was a misunderstanding between the two sides… so it resulted in the shooting of guns. One person was confirmed dead. We are continuing with the investigations and we know that by the end of the day, we will get the other suspects," ACP Peter Ndekugre added.
A ban was first placed on the harvesting, transportation, export, sale or processing of rosewood in the country in 2014.
The Forestry Commission was directed to stop the issuance of felling permits for rosewood.
In August 2017, the Ministry of Lands and Natural Resources gave approval for the grant of permit to 25 companies to salvage rosewood from the Brong-Ahafo, Upper East, Upper West and Northern Regions.
Source: Citinewsroom.com | Ghana