Someone May Be Getting Away With Murder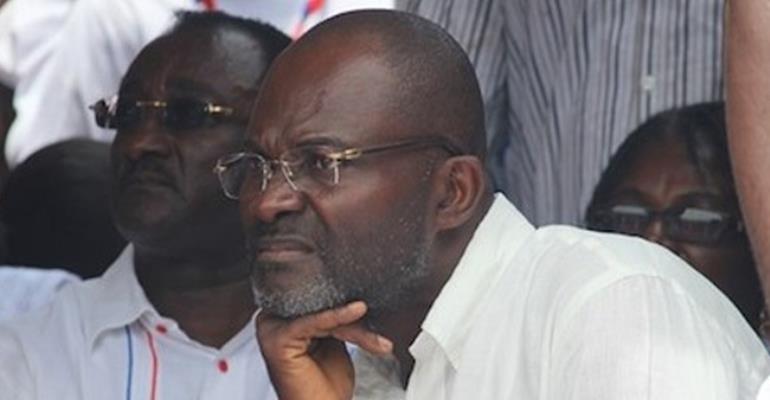 Most of us have wished someone would die: some oppressor, harasser, creditor or debtor… some apparent obstructer of our ease or desire. In anger or frustration, we might even express our wish. Fortunately, only a rare few of us would really do such a thing. Most hesitate to kill, even if we or our loved ones are directly & immediately threatened.
There are among us another rare few who lack the 'balls' to kill but recognise the usefulness of those who will: killers, assassins. These users understand that killers can be induced, by threat or payment; incited, by propaganda; or encouraged, by offers of protection, to act instrumentally.
In July 2018, 'Honourable' Kennedy Agyapong, MP for Assin Central, appeared on television, part of his own media empire. The MP named the Ghanaian investigative journalist, Ahmed Hussein-Suale, & his home location (Madina-Accra) - apparently exactly where his killers got to him.. The MP had a close-up photograph shown, from which Mr Suale could be clearly identified. He claimed, without evidence, that Mr Suale was 'bad' & 'dangerous'. He called for viewers to accost & violently assault him. The MP offered to pay, 'whatever happens'.
On Wednesday 16 January 2019, Ahmed Hussein-Suale, was shot dead in the street near his home - Madina by unidentified assassins.
The MP clearly incited violence; clearly offered protection; & arguably offered inducement.
There is no known evidence linking the MPs actions with this murder. Does that mean there is no connection? No responsibility, morally or in law?
Ghana Police are investigating the murder. The US FBI has offered to assist. The act was committed by two men on a motorbike; six have been arrested & released on bail. The assassins may or may not be among them.
The MP should also be investigated. He is a member of the governing party & substantial donor to it. Government remains, at the time of writing, ominously silent on the matter.
This is a matter of some importance:
ExPresident Jerry Rawlings quickly blamed the murder on the MPs behaviour which he identified, correctly, as incitement to violence;
US Congressman Hank Johnson (Dem. Georgia) called for a travel ban & restriction of banking rights to be applied to the MP;
Footage of the TV broadcast is readily available on the internet, as are vociferous responses from both accusers & defenders of the MP.
There is no doubt that the MP committed offences during that broadcast, against both Ghanaian & international law:
Incitement to harm is an offence under the Criminal and Other Offences ACT;
The Common Law of Ghana, as modified in 1982, perpetuates prior laws (mainly British Common Law) where 'compatible with national aspirations'. It is fair to assume that Ghanaian national aspirations do not embrace incitement to violence.
Lord Denning QC (UK) stated that 'a person may incite another… by persuasion… (Words or deeds)… addressed to a particular person or group or to the public at large'.
Ex-President Rawlings is correct: that is clearly what the MP did.
This would also be an offence under the Ghana Broadcasting Bill (2014) if the Parliament had finalised it.
Incitement is illegal in most jurisdictions if the act incited would be illegal, whether it is carried out or not. This means that, even if Mr Suale's murder cannot be linked to the MPs incitement, that incitement was still a crime.
What should happen now?
GPS should continue to investigate the murder as a high priority.
The Ghanaian public, & international observers, demand thorough investigation & will be satisfied only with arrests followed by determined prosecution;
The President should direct the Bureau of National Investigation to inquire whether, by threatening press freedom, the MPs actions & associations threaten national security;
Government should establish a judicial inquiry into the MP's actions;
The Speaker of Parliament should consider whether the MP can be suspended from the chamber;
The governing New Patriotic Party should disendorse the MP for future nomination in Assin or any other constituency;
The National Communications Authority should consider whether the MP is a suitable person to hold, or direct a company that holds, media licences in Ghana.
None of these actions depends upon conviction for incitement or any other crime. The MP's behaviour on public media is proof enough that he is unfit for public or corporate office.
Mr Suale worked for Tiger Eye PI, a non-government organisation whose mission is 'to uncover the truth'. Investigative journalism makes enemies; worldwide, 80 journalists were killed in 2018, more than half targeted because of their work.
In war zones like Syria, Yemen or Afghanistan or among drug cartels in Mexico, journalists know & accept these risks; in Ghana, a peaceful electoral democracy, violent attacks upon the press are unexpected & unacceptable.
There is no doubt that, whether they are linked or not, both the MP & the assassins were attacking press freedom in Ghana. The MP called for Tiger Eye PI to be dissolved or banned.
Anyone, including the MP, has a right, even an obligation, to criticise our media & other institutions whenever failure to meet professional standards is suspected. Their purpose must be to improve standards, not destroy institutions.
All large organisations experience instances of laxity, even corruption. Practices in the Parliament, Judiciary & Police service sometimes attract justified condemnation. No-one calls for their dissolution.
Tiger Eye investigators & journalists have been criticised for shunning cameras & wearing masks. It is true that in many countries' journalists do not obscure their identities. Mr Suale's death provides ample justification for working undercover in Ghana.
One hopes that the electors of Assin will demand the MP's resignation & replacement with a proper representative.
One also hopes that the MP will be 'sent to Coventry' by the public at large & any civil organisation of which he is a member.
Sadly, many people expect the MP to suffer no serious consequence for his incitement. If so, it is a frightening precedent for press freedom & liberal democratic values in Ghana.
A good man, a public champion, is dead. Someone may be getting away with murder.
Emmanuel Kobi
(Facebook - Nsiaba Nana Akwasi Kobi)