Is Kennedy Agyapong Being Scapegoated?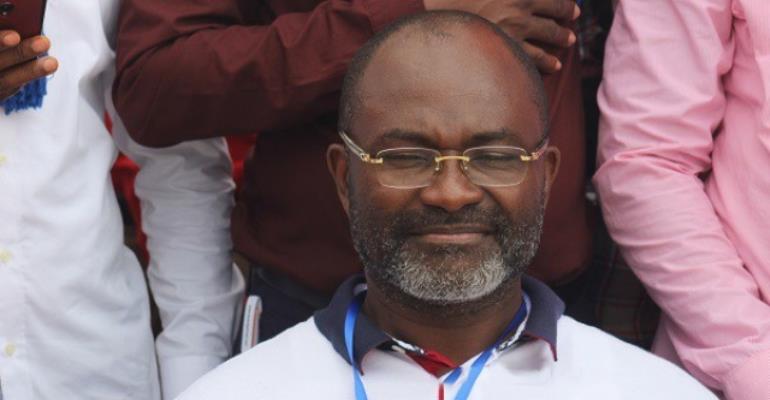 I think it's just as apt to refer to him as a lightining rod because he attracts a lot of criticisms for either bad or good reasons.
Mr. Agyapong often finds himself at the centre of controversy and he's currently being blamed for the killing of Ahmed Hussein Suale, an undercover journalist in Ghana.
English writer, Adeline Virginia Woolf once wrote and I quote:
"When a subject is highly controversial ...one cannot hope to tell the truth. One can only show how one came to hold whatever opinion one does hold. One can only give one's audience the chance of drawing their own conscious as they observe the limitations, the prejudices, idiosyncrasies of the speaker."
Dear reader, may I crave your indulgence not to get pumped up because I'm not going to write thesis on/about the character. Rather, this essay or write-up will attempt to appeal to the Ghanaian populace to strive to extricate themselves from what appears to be extreme partisanship, negative bias and quirks.
It seems we're now more divided than united. Yes, one may blame it on politics but I think we the people owe it a responsibility to eschew this apparent schism.
So, Who's Kennedy Ohene Agyapong?
Mr. Agyapong wasn't born into an affluent or aristocratic household. He's a self-made rich individual who often brags about his wealth.
A media owner (Net2 TV), real estate developer, a farmer and a politician.
Of course, Ken doesn't shy away from saying for example---how wealthy he is, how handsome or how powerful and how smart he is. That's Ken and that's how he casts hinself. Call him a braggart, a brusque figure, or a maverick. Perhaps a man who walks around with his nose in the air.
In fact you can place him in the company of Asiedu Nketiah--( the opposition NDC' chief scribe) also known as General Mosquito, Koku Anyidoho, a leading membet of the Zu-Za family and Mr. Kwadwo Owusu Afriyie (frm. NPP general secy aka )Sir John, when one is dabbling in Ghana's politics.
What's the commonality here or what do they share in common?
They all have firecracker mouths.
Sharp tongues with toxic tonic.
They crack jokes, break bread and pop champagne at duburs and funeral grounds with their political opponents for the cameras. Yet, they turnaround the next minute to spew evil and demonise their so-called friends.
The public loathes it but it seems they (the citizenry) have lost it or can do nothing about it. They're the reason, the Azokas, the Kandahars and the Invisibles are birthed.--- peppering and terrorising innocent Ghanaians.
From afar, looking into my crystabal, it doesn't appear the vigilante groups are going anywhere now. Until, I believe these politicians stop howling like cayotes, 'machoism' will never die.
"When a thing ceases to be a subject of controversy, it ceases to be a subject of interest," --- William Hazlitt
Well we've one that piques one's interest.
One that's generated huge controversy in Ghana.
On Wednesday 16 January 2019, Ahmed was murdered by two unidentified gunmen at Madina near Accra. They fled on a motorbike and haven't been arrested since. I should add that six individuals are on police bail following their arrest last week.
Since Ahmed's murder a number of negative comments and death threats have been directed at Ken.
Why?
Because the law-maker had once blown the cover of the undercover journalist. But it didn't end there, Ken had also warned that if Ahmed set foot at the premises of his TV station in Madina, Accra he should be given a beat up, adding he would take responsibility if it results the journalist's death.
We'll soon find out what triggered the warning or threat.
"Stop the rubbish and ask intelligent questions," Ken told an interviewer.
Who was he talking to and why?
He was talking to a media personnel. And the statement was captured in a short video---a friend shared on WhatsApp last Friday.
I couldn't tell which network Mr. Agyapong was on. And whoever was behind the console remains unknown to me...But supposedly the Assin Central legislator had been invited there to talk about what in my view is one of the most controversial issues in Ghana today.
The slain of Ahmed Husein Suale.It hasn't ceased to be a subject of interest.
As I aforestated he was an investigative journalist who plied his trade with Tiger Eye Pi, ably headed by Anas Aremeyaw Anas.
But how did we get here?
It was the #12- an investigative piece or documentary co-authored by Tiger Eye Pi and British Broadcasting Corporation (BBC).
The release of the documentary saw the decapitation of the reign of Kwesi Nyantakyi as GFA boss and FIFA high-ranking member. It touched on many nerves even beyond Ghana's frontiers.
When the piece was premiered in June 2018 last year , many were shocked at the level of corruption that had engulfed arguably the most beautiful sports in the world.
But coming at its heels was another video dubbed: " Who watches the Watchman."
That documentary was put together by none other than Kennedy. Soon it would divide the nation Ghana. I'm told he's released part II over the weekend.
I've known the celebrated journalist (Anas)for many years. We once lived in the same neighbourhood somewhere in the capital-Accra
Once upon a time when I was taken ill it was Anas'dad that saw me at the 37 military hospital. And once upon a time I could name the names of all his siblings ..not anymore though.
The Fallout
Back to the video. The interviewer was slammed and ridiculed by Ken.
"You're like the guy at BBC. You ask damn questions."
He threw trantums and punched a table in front of him. His voice drowned the interviewer's, amid laughter. Within seconds it''d all become theatric and it probably ended abruptly, the video reveals.
That's Ken, typical of him...being controversial as usual. He laces humour with critical issues sometimes and the one in that clip wasn't different.
Must the media invite 'anybody' for a discussion?
I guess the question we've to ask is:
What's the criteria for selecting someone to talk on a programme.
Is s/he resourced or resourceful?
Does the individual engage in intelligent and civil debate or dialogue?
Style and approachability must be considered. The manner in which one approaches and handles an interview could determine the outcome, success or otherwise.
The problem I've with Ken though is, he talks too much and likes to trade insults whichever platform he finds himself and whom he engages--- regardless of status, sex or age.
He insults the police, the military, the immigration and he even insults his own party members. Often he goes beyond bounds.Suffice to say, his action raises much concern and I view such behaviour as 'unpaliamentary'.
Indeed it casts a slur on that legislative branch of government.
Also, I think he, Ken invariably forgets that he's an MP (Member of Parliament). And as a legislator he needs to tone down and filter his words.
Remember, the job is for honourable men and women, therefore reps must act honourably to keep Parliament its enviable image. Age, gender or sex, status, faith and colour musn't be a problem. Nonetheless, members elected to this noble house must act nobly. They should bear that in mind.
Is Ken being scapegoated?
Witches know themselves, but one cannot subpoena or compel a witch to face the law courts on a mere fact that one is accused of being a witch.
How would you prove it and by what means?
Thus, I think blaming it all on Ken is like scapegoating him. It undermines and diverts security operatives work. It also tends to deepen the acrimony and division among the citizenry.
Be reminded, he (Ken)said he would take responsibility if the journalist was beaten up at his station. He didn't say any place. But granted he'd an ulterior motive or chose his words carefully, I still don't think he'must bear the whole burden.
Must he be viewed as a person of interest?
Absolutely, I've no question about that. Even the Tiger Eye family must be questioned.
It's understood the security operatives had already done that. And I applaud them for taking the initiative.I strongly believe it's the right thing to do and the right way to go.
I also think my good friend Anas and his attorney erred for putting together the video that was broadcast shortly after Ahmed's assassination.It sought to implicate Ken and has fueled threats, mistrust and hatred.
However, to err is human...It's a fact that impulsivity is part of human. We all make mistakes. At times we don't look before we take a leap. But that doesn't mean they (Anas & Co) also did the killing.
Given the fluidity or complexity of the case, I think it's somehow premature to apportion blame and scapegoat perhaps an innocent individual.
So let's allow the intelligent agencies in the country to do their work. I'm hopeful they 'll arrest the real culprits and bring closure to the case.
We must remember that intelligence gathering is mosaic. It takes time, resources and energy but we will get there.
Having said that I think Ghana needs someone like Ken---a lightining rod that takes the shock, the negativities and the hostile criticisms.
Our nation needs fearless, firebrand, maverick and tell it as it is individuals. People that will speak to the truth and defend it any day anywhere at anytime.
Truth be told, Ken needs a good advisor and a good friend...not a fair-weather friend., I think.
The MP needs someone who can call him out and point out his mistakes to him.
Is there one though and would he listen?
Tapestry oft' exudes its beauty as its coloured weft thread remains unsullied and untroubled. Except time, except bad conditions. Until something bad happens it stays intact. Strong and appealing.
I make reference to this beautiful embroidery fabric to underscore a point and hammer home the truth that appears to be denying the good people of Ghana.
Our nation appears to find herself on a knife edge. Politics has sorely divided us. And I find it hard to believe sometimes, the way we allow politics to create a wedge between us. We claim to be friends and pretend everything's good.
But that contradicts the reality. The things we say and the things we do far belie what the lenses capture and show to the world.
Who do we think we're fooling?
Or do we think we're smart?
Of course we're fooling nobody but ourselves.
Question is: Are we that smart to shoot and kill our kinsmen because of politics?
Are we that smart to cheaply create disaffection , mistrust and a gulf in between us?
It seems everything's being politicised in our today body-politic. That which isn't worth to be politicised get the hype, labeled and swooped in.
And do you know what happens when we slide into that pool?
We tend to lose our good sense of judgment, our sense of unity and our sense of hope and purpose. We no longer see things objectively or without colouring them with broad party brushes.
I cannot conclude my article without looking back at Ken's outburst in the video.
Was he right in criticising the interviewer, saying he didn't ask intelligent question?
First, let's be fair and do justice to the subject matter. And I think the question we've to ask ourselves is:
Did the interviewer ask unintelligent question (s)?
Second on what or which premise or context was the question asked?
And third. did the interviewer deviate from the subject matter?
One thing is obvious, we won't be able to establish all that in an approximately one and half minutes video. However, to attempt to do so I'll start from the bottom which I think takes care of the former two.
And here one has to establish motive or intent if indeed the journalist deviated.
Again, it would be hard to establish the rational behind his question , hence one may conclude that the question was skewed or fit the description.
Indeed I blame the media for most of the gibberish that pollute our airwaves and intrude our households.
The reason, as gatekeepers---the fourth estate ought to ensure that objectivity, professionalism and balance reportage remain key. Anything short of that undermines the noble profession and its glint.
Another essential factor that cannot be downplayed is impartiality. The media must be independent and not be seeing taking sides in any issue or controversy.
Whenever, these crucial factors are breached one is most likely to witness a fracas or controversy akin to Ken's.
Whenever, the fourth estate loses its luste, it could be likened to a 'market place' where magicians, sorcerers, quak doctors and pastors, sakawa or the get-rich-quick individuals pitch their tents.
And I think we' re better than that.