Plan to Train NPP Activist for Elections 2020 Saga
Some Members of NPP and others Will Have to Explain to Ghanaians Why State Resources Are Been Abused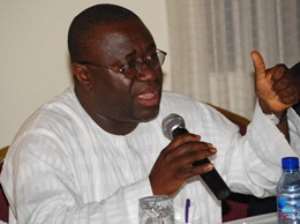 Security expert, Dr.Kwesi Annin says there is a need for some members of the ruling New Patriotic Party (NPP) and other stakeholders to explain to Ghanaians why state resources are been used for party interest.
According to him, state resources are not supposed to be used for personal interest of any political party.
"I think some people within the NPP, those at the secretariat level, and at cabinet level will have to explain both to the civil society guys who were at the stakeholder meeting and to the people of this country why state resources are been abused and used for parochial party-political interest" He stated
This is in relation to the fact that a letter was recently discovered instigating that the upper west Regional coordinating council and its Liaison office plan to recruit and train activist of the New Patriotic Party (NPP) for elections 2020.
The activists, who were nicknamed "Election security team", will be expected to carry out activities such as guarding ballot boxes during the elections.
The letter is supposedly addressed to the NPP constituency chairman in the upper west region signed by Regional Security Liaison officer, capt.Simon Ansu Tengabo (Rtd)
The letter was also sent to the NPP Regional Chairman, Alhassaan Suleman and all Municipal and district chief Executives in the Upper west region.
Dr.Kwesi on his part noted the fact that, not only is this act wrong according the laws of the state, but it also poses a threat to the country as a whole.
"…these disparate acts of irresponsibility almost come together to read as a declaration of war…" he stated.
According to him, the plan of training these guys for security during the elections might pose a threat to the nation if care is not taken.