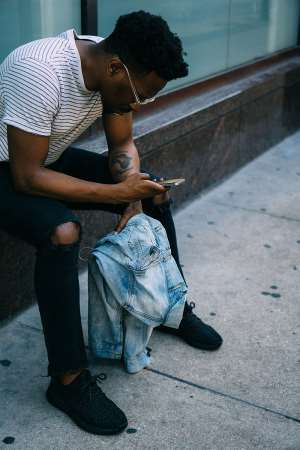 When Kofi made the long journey to Germany a few years ago to find work, he hadn't thought about how hard it would be to be separated from his whole family. Especially in the early days, he had to overcome many hurdles, such as the new language, the cultural gap as well as the different climate that awaited him in Germany.
But all this was no problem for Kofi - after all, he was motivated to live his new life in a distant country just as he did at home in his native village not far from Kumasi: Independent, goal-oriented and always thinking about his family. For although Kofi always mastered all other difficulties successfully, there was one thing with which he had to struggle: the lack of contact with his parents, grandparents and siblings.
It was not a problem for him to be constantly reachable in Germany. But his family in Ghana had neither the necessary financial means to buy a laptop or an expensive smartphone, nor was Internet available in the village or in the immediate vicinity.
That's why Kofi had only sporadic contact with his family at the beginning, where he had most conversations with his sister Morowa, who worked in Kumasi - at least until he became aware of a service that significantly improved his life in Germany: utransto
Utransto allowed him to send mobile phone credit to his family members in his home country in the simplest way possible, without them having to travel the long way to shops for mobile phone recharges. Kofi was particularly impressed by utransto's ease of use, which allowed him to top up his relatives sim cards within minutes - easily, quickly and incredibly efficiently.
Since Kofi has been in regular contact with his family, he has found his way around even better in Germany and his family has been able to build a house from the money he regularly sends back home.
Today he says that's utransto´s top-up service that makes international mobile airtime recharge possible contributed to his success on another continent in its own way.