Parliament Charges Ghana Police To Deal Swiftly With Kidnapping Cases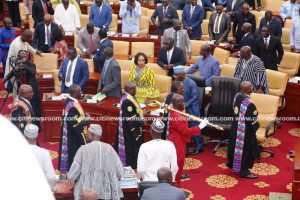 The leadership of Parliament is urging the Ghana Police Service to act swiftly to deal with the rising state of insecurity in the country. The call follows the recent killings including that of investigator Ahmed Hussein-Suale, and the wave of kidnappings that has hit Takoradi and other parts of the country.
In remarks at the opening of the third session of the 7th Parliament today, Tuesday, Majority Leader, Osei Kyei Mensah-Bonsu, described the rising incidence of crime as worrying.
"…The backdrop especially of the gruesome murder of the undercover investigator, Ahmed Suale and the Public Affairs Manager of Tema Port, Josephine Asante, just to mention a few; it is important for Parliament to urge the police service to pursue these cases to their logical conclusion for justice to be served."
"Mr. Speaker, the kidnapping of three girls in Takoradi in the Western Region is also very worrying and the police we understand are working ostensibly to unveil the people behind these dastardly acts. We again want to urge the police to speed their steps for us to come to a realization of indeed who is behind these unfortunate incidents that is threatening the security of this nation," he added.
Background
Ghanaians have raised concerns over some heinous crimes that have been committed by some person in recent times.
They include the kidnapping of some three girls at Takoradi in the Western Region, murder of investigative Journalist of Tiger Eye PI fame, Ahmed Suale, and the Public Affairs Manager of Tema Port, Josephine Asante.
Following recent crimes, concerns have been raised about the way the police operates in an era where crime has become more sophisticated.
There are some who believe that the Ghana Police Service is barely able to gather intelligence in fighting crime because it is under-resourced.
Ghana not in a state of anarchy; we're in full control – Mpraeso MP
Despite the killings and kidnappings that have recently hit the country, Chairman of the interior and Defense Committee of Parliament, Seth Acheampong has assured that the country is safe.
Speaking on Monday's edition of The Point of View on Citi TV, Mr. Acheampong, who doubles as the Member of Parliament of Mpraeso, allayed the fears of the citizenry, saying that government was tirelessly putting everything to rest.
"I want to assure Ghanaians that the government is in full control of the state. This is not a state of anarchy but a state of order where we are governed by the rule of law. Certain happenings have been going on over a period with us as a people. It did not start today, it is gaining some momentum. We just need to devise new ways of clamping them down."
Source: Citinewsroom.com | Ghana