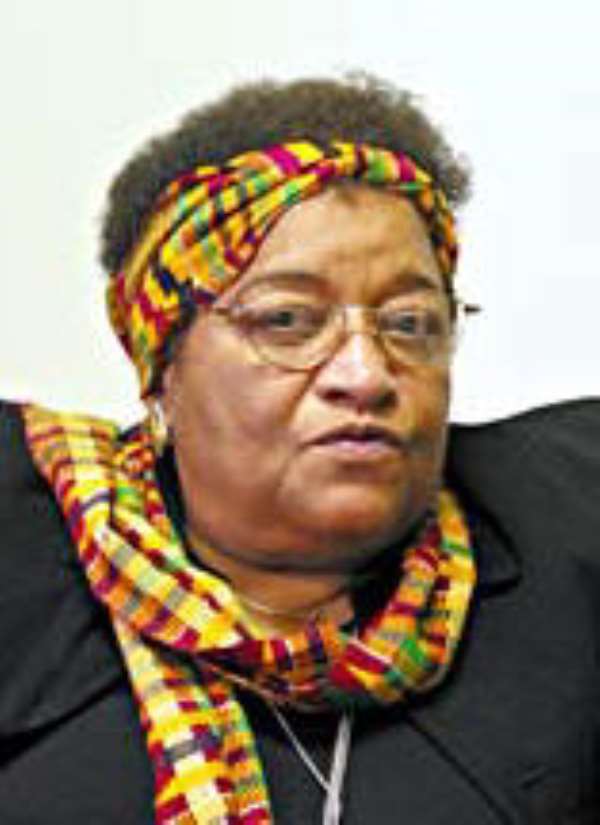 Accra, Dec. 1, GNA - The President-elect of Liberia, Mrs Ellen Sirleaf-Johnson held a meeting with President John Agyekum Kufuor on Wednesday in Accra as part of her consultations with leaders of the West African Sub-Region to consolidate the democratic process in her war-ravaged country.
The 67-year old Harvard educated Economist, flew in from Abuja, Nigeria and met with President Kufuor at the Castle, Osu where she showered praises on Ghana for helping to facilitate the peace process in Liberia.
"I have come to thank you Mr President and the people of Ghana for the support," she said.
Mrs Sirleaf-Johnson, who beat international soccer star, Oppong Weah, in a hotly disputed presidential runoff to become the first woman to be elected as Head of State in Africa, said she was also in Ghana to seek counsel and brief President Kufuor about the political transitional process in her country.
The election was made possible after a marathon peace talks brokered by ECOWAS in Accra halted the 14-year old civil war in the West African State where combatants killed more than 250,000 people of the three million people and drove more than 500,000 others into exile. On August 18, 2003, National Transitional Government for Liberia, led by Mr Gyude Bryant was charged to manage the transitional process of the war-ruined country for two years to pave the way for General Election in October 2005 for the elected government to assume power on January 6, 2006.
Mrs Johnson-Sirleaf said Liberia had come a long way and making particular reference to the elections she said: "The people had spoken."
She pledged to forge unity of purpose to sustain peace, stability and development.
Mr Weah alleged that his political rival won the polls through massive rigging, but international observers and the African Union declared the elections as largely free and fair. President Kufuor congratulated Mrs Sirleaf-Johnson for the victory saying it was a big symbolism in this age of democracy and gender balance.
"The entire nation (Ghana) share your joy," he said. The Liberian capital, Monrovia, has been living without electricity supply for years due to the civil conflict that also destabilized the Mano River Basin - Sierra Leone, Guinea and La Cote d'Ivoire.
Mrs Sirleaf-Johnson has already visited La Cote d'Ivoire and is scheduled to go to Guinea and Burkina Faso.