W/R: 328 Fire Cases Recorded in 2018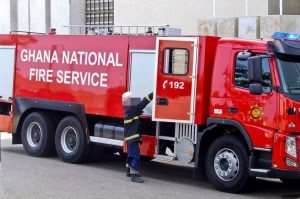 A total of 328 fire cases were recorded in the Western Region last year as against 415 in 2017. Out of the number, 25 injuries and three deaths bushfires in 2018 as compared to 196 injuries and three deaths in 2017.
This was in a report issued by the Western Regional Fire Service on Friday.
The cost of damage and cost of items salvaged were more than GHc 156 million.
The report indicated that residential and bush fires were on the increase from the first to the third quarter as compared to industrial, commercial, institutional and electrical fires.
Thirty-four domestic fire cases were recorded in the first and second quarters of 2018 and 23 cases in the third quarter while in 2017, residential fires totalled 51 in the first quarter and 40 in the last quarter.
For bush fires 46 and 20 cases were recorded in the first and second quarters in 2018 respectively.
The Fire Department, however, recorded 53 bushfires in the first quarter and seven in the second quarter in 2017.
The statistics showed that domestic and bush fire accidents were rampant in both years.
A total of 162 domestic fires were recorded in 2017 with 65 cases of bush fires whiles 2018 recorded 188 domestic fires and 69 bush fires.
The report called on the public to adhere to fire safety instructions at all times at home and offices to curtail fire accidents.
–GNA