Police special units deployed to crack down on recent wave of crimes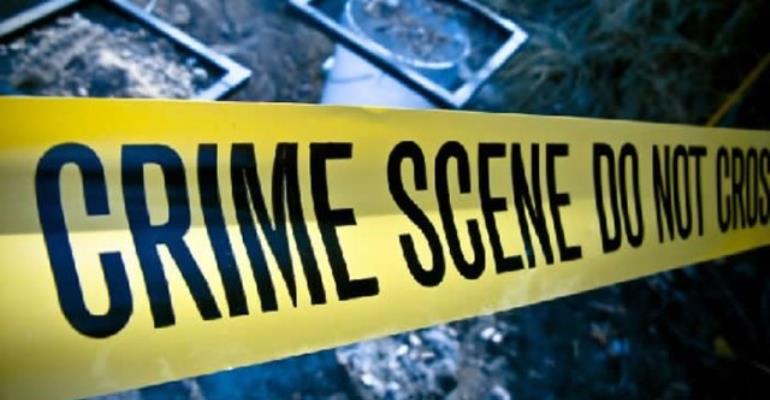 Ghana police have said two specialised units of the Criminal Investigations Department (CID) have joined efforts to crack down on the recent wave of crimes in parts of the country.
A statement issued by the Director of Public Affairs Directorate of the Ghana police said they are marshalling all their resources to deal with the security situation.
"Officers from specialised units of the Criminal Investigation Department including the Counter-Terrorism and Special Weapon and Tactics Units are part of the team of investigators handling these cases," the statement signed by Assistant Commissioner of Police, David Eklu, said.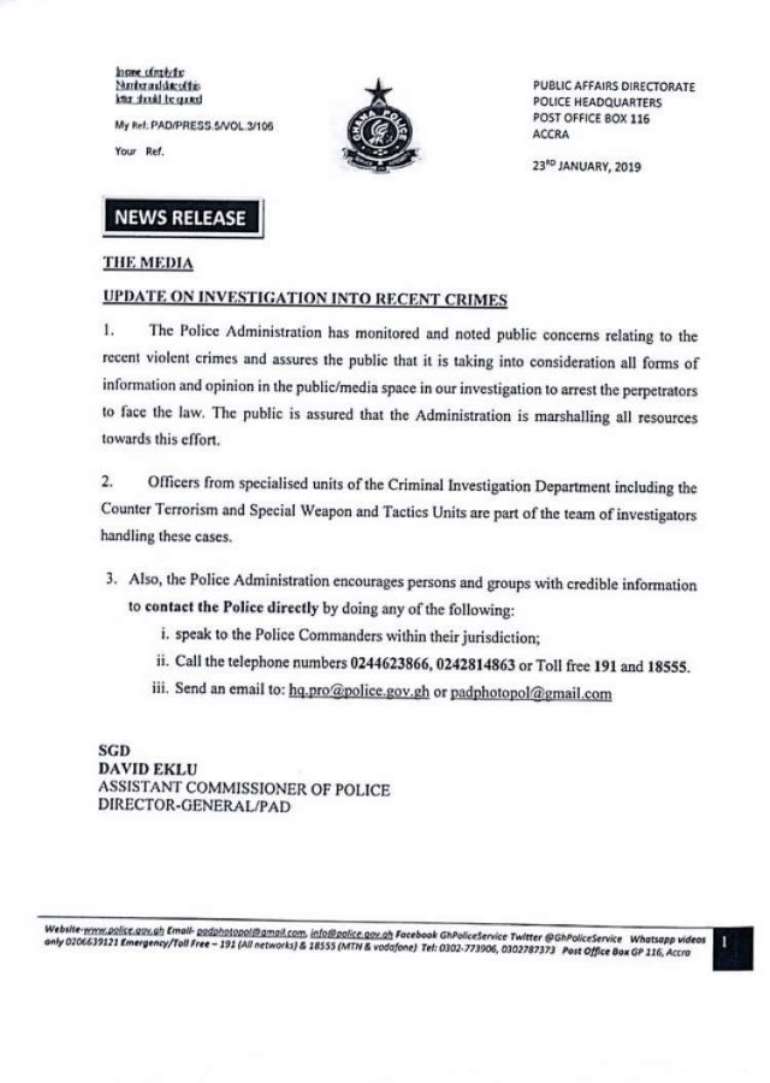 Wave of crimes
The revelation by the police follows the contract-style killing of three persons, the kidnapping of some girls in Takoradi, the Western Region capital, and an overall increase in major crimes at different parts of the country.
Related: Wave of killings 'threaten right to life, liberty of Ghanaians' -- Amnesty Int'l
Minority MPs and civil society organisations have had cause to criticise the government over what they say is a dangerously lethargic crime-fighting police service that has been characterised by the rise in violent crimes across the country.
''For instance, according to statistics from the Ghana Police Service, incidents of robbery cases recorded at the end of year 2017 were 1,772 as compared to 1,397 in 2016. This figure represents a 27% increase. The situation did not improve in 2018 as robbery cases alone hit 968 in the first quarter,'' the Minority legislators said recently.
Also, Security Analyst, Kwesi Aning, has said although unfortunate, the sudden rise in violent crimes and vigilantism in the country is hardly surprising.
"We have become a tolerant society when it is related to violence, it has become showmanship when the violent actually does happen."
"I am not surprised at all, and this is going to rise dramatically before we get a handle on it. Our language itself glorifies violence, and right now the threat of harming somebody. The kind of sheer indiscipline that glorifies violence in the public space doesn't exhibit surprise," he said.
Contract-style killings
Violent crimes, Dr Aning said, have become a spectacle in Ghana, and urged commentators to remove the shock from the wave of crimes that have hit the country.
Notable cases over the last couple of weeks include:
The stabbing to death of a pastor, Rev. Dr David Nabegmado, at his church.
The pastor was attacked while preparing to leave his inner office to the main church auditorium to preach as service was ongoing on December 30, 2018.
Also, a chief at Prampram was shot and killed in December 2018.
On January 13, 2019, the Marketing and Public Affairs Manager of the Ghana Ports and Harbours Authority in charge of the Tema Port, Josephine Asante, was stabbed to death at her residence.
On January 17, 2018, an investigator with Anas Aremeyaw Anas' Tiger Eye PI, Ahmed Hussein- Suale was shot dead in his car.
Currently, three girls kidnapped in Takoradi by a syndicate suspected to be Nigerians -- some five months ago – remain missing prompting the media campaign #BringbackourTaadigirls.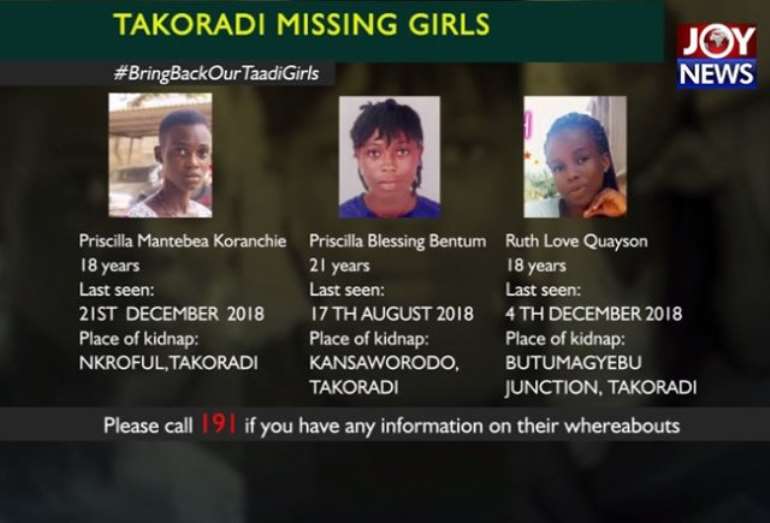 Related: Police report another kidnapping case in Volta Region
Meanwhile, the police are urging the public to volunteer credible information that will assist them to solve the crimes.
Sub-regional cooperation
Executive Director for the West Africa Network for Peace Building (WANEP), Chukwu Emeka Eze, has said it was about time police in the West African sub-region work more closely in solving the crimes.
He believes that was the most effective way to deal with cross border crime.
Mr Eze has, therefore, called on member states to invest in working closely together.
"It is high time we begin to practice more of community policing...I am talking about ECOWAS as a community because we have known in the past that our borders are artificial.
"If we don't have an investment in a policing process that connects the entire sub-region together, we will continue to have these kinds of challenges. We need to look at the method of policing...we cannot use analogue policing for digital crimes," he told Joy News.
Western Region Police Commander, DCOP Redeemer Vincent Dedjoe, told journalists at a news conference on Wednesday that Interpol has been put on alert to help track crime syndicates in the sub-region.
Source: Ghana | Myjoyonline.com