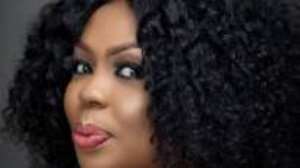 On receipt of a forwarded WhatsApp video clip made by the notorious Afia Schwarzenegger with intent to rubbish the ongoing Free Senior High School education in Ghana, I have decided to put out this publication. This publication is directed at strengthening the Free SHS contrary to the sabotaging views expressed, and attempts made, by, not only cunning people like Afia Schwarzenegger but also, some rich NDC members including former President John Dramani Mahama.
In the said video clip, Afia is praying God to come down to earth to have mercy upon Ghanaians because of her perceived ravages that the Free SHS will have on female students. She claims the double track Free SHS will culminate in many a Ghanaian female student falling pregnant. Additionally, the male students will involve themselves in various malpractices, for example, "Sakawa", when they come to stay home for three months at a time. To round her subtle anti-Free SHS supplication to God off, she said, many a Ghanaian parent is worried and crying because they have to pay to organise extra lessons for their wards while they are home for three months because of the double track SHS education system.
For the attention of Afia and her likes, I have the following to tell them which they are required not only to note them down properly but also, to think deeply about them.
The Free SHS in Ghana is unique. There is none of its sort in the world. Yes, one wonders how it can be catered for to give Ghanaian students quality education. However, can Ghanaians not be innovative for once? Can we not come up with something new that other countries can replicate it? Do we always wait to copy from others?
His Excellency Nana Addo Dankwa Akufo-Addo believes in building the human resource base of Ghana by giving every Ghanaian child a minimum of Senior High School education. He has decided to use the oil and other monies that were finding their way into a few individuals' pockets during the former President John Mahama's NDC regime, to fund the SHS for the benefit of all Ghanaians. Is this a wrong idea?
Yes, with the introduction of any new policies, regardless of the superb feasibility studies conducted into them beforehand, there is bound to emerge certain unforeseen problems. When such problems do crop up, we do not run away or abandon the policy but to deal with them through finding solutions.
My research has yielded the following." A German class schedule is not the same every day. More like a college schedule, with some classes three times a week, while others are only two days a week. German students attend school for 187-190 days in an academic year, depending on the state. The school year in the US lasts 180 days". Aside from this, are there not other countries in the world practising the double track system from whom the government of Ghana consulted before introducing that in Ghana? Yes, there are. For your homework, find out which these countries are.
If there was a Free Secondary School education in those days, one Yaw Amoako from Juaben would not have abandoned his Secondary School education at Form 3 at Kumawu Tweneboa Kodua Secondary School in the late 1960s. Just for the difficulty of paying his fees when his uncle who was caring for him died, despite his academic brilliance, he had to cut short his academic dream. Had he had the financial means to continue his education, he could have become far better than he is in his current situation. The same thing goes for one Kwasi Appiah in Kumawu. Kwasi Appiah was my classmate at Kumawu Roman Catholic Primary school in the early 1960s. He was older than anyone in the class by about six years or more. He came first in any examination we took. When we were going to Class 3, he was "jumped" a year ahead of us because of his age and probably his brilliance. Once, when I went to Ghana on holiday and met him carrying his pot of bubbling palm wine, he stopped and said, "Kwasi, you know that when we were in primary school I was always first in any exams we took with Kwame Tabi coming in second position. However, because of poverty, I could not further my education after the elementary school and now I am a palm wine tapper". Surely, Appiah could have pursued further education easily if his family were financially resourced.
The free SHS, is a chance come too late for people like Yaw Amoako and Kwasi Appiah but certainly, a blessing for their children and grandchildren. I had published articles about them already hence not going into details regarding these two mentioned persons.
When a girl wants to get pregnant because of her bad attitudes, no matter what happens and how far she is restricted by her parents, she will go and have sex at any least opportunity she gets. One of my primary school classmates, Dora Fetua, was a brilliant girl. Nonetheless, she got impregnated by one of our same primary school teachers called Mr Abeam Danso, deceased about forty years ago. He married Dora and left Kumawu with her when he got transferred. Dora gave birth when she was in primary school Class 6. At Kumawu Tweneboa Kodua Secondary School, one of my Form 3 mates, Gifty Akoto Danso, died in a lorry accident. During midterm holiday of the second term, she left school in the belief of going home. Little did anyone know that she was instead going "camping" with her then army officer boyfriend. They had a car accident. The army officer was at the wheels of the car. Both of them died but from information made available to the school, her body was torn apart like a minced meat. Gifty was academically more brilliant than any of the female students in the class. There was one Afua Agyeiwaa, a niece of my father. She was one of the first females to attend Kumawu Tweneboa Kodua Secondary School in the late 1960s when it was converted into a Mixed School from Boys School. When in form two or three, she got pregnant and so discontinued with her education. She was a boarding student. In her time, there was no double tracking Secondary School education yet, she got pregnant. Was she impregnated by a fellow student or her boyfriend at home? She is the only one able to tell.
Some female students have boyfriends both at school and at home. Therefore, the question of the female students getting pregnant because of the long duration they will be staying at home does not hold any water taking my above narrations into consideration. Most of the girls never got pregnant. How long does it take for a girl to get pregnant? If your daughter's character is not good, whether she is in double track education or not, she will get pregnant if she chooses to.
Finally, on the question of parents or guardians having to pay extra money to secure their wards extra classes or lessons because of the length of time they spend at home as a result of the current double track education system is very amazing. Afia "Schwar" says parents have to pay private teachers or tutors extra money and their children transportation money to acquire extra classes or lessons during their three months stay at home because of the new double track education system – the Green and Yellow systems. Let her understand that since the beginning of formal education in Ghana, some parents have always been securing their children extra classes during holidays or after normal school hours. My Secondary School mates like then James Nyarko, but now Professor Yaw Nyarko, Daniel Sekyere Marfo now a retiree but still continuing with his job as an accredited pharmacist with about thirty five or more years of experience, and Akosah Rolland, a Business Consultant with a Masters Degree from Harvard University, still had extra lessons when we went on holiday in the 1970s. We were all at Kumawu Tweneboa Kodua Secondary School in the very beginning of the 1970s. This explains why they were too good academically.
Therefore, what is Afia Schwar trying to tell me? She and her like-minded "pull him down" lots who are doing so for their parochial and political interests can never use this to score cheap political points only to come to power to embezzle funds and State assets.
If the Free SHS is not good for the nation as is being alleged, then those in the northern part of Ghana should not think they will be allowed to continue to enjoy it at the expense of those in the other parts of the country. How many of us the children of cocoa farmers did have Cocoa Marketing Board (CMB) scholarships? None or not many. It went to cater for the children of the rich people, the wards of the staff of the CMB and those people in the North. This is not right! In spite of the challenges the Free SHS is facing, we can make it work if we want to.
Should this matter become a political campaign issue, then I shall be ready to hit the campaign ground with my message to persuade the majority of the farmers in the country to embrace it and vote for the NPP. I detest those people who for the satisfaction of their stomach and selfish ends, always bring politics into anything that has the potential to alleviate the suffering of Ghanaians by saying it is not good. They must bear in mind that what is good for the goose is also good for the gander.
Let us think positively to help Free SHS education become an enviable success. Let the Special Prosecutor start to prosecute those that have embezzled state funds that could have gone into the current education system. Hon Martin Amidu, discerning Ghanaians are anxiously waiting to see you in action without any further dithering. Walk the talk for the doubting-Thomases to see that the Free SHS education is possible but not a mere political slogan!
Rockson Adofo