Population Explosion In Africa And Impact On The Provision Of Living Needs
Africa faces the threat of hunger and famine with the continuous increase of population and the taking away of the continent's resources by Europe and America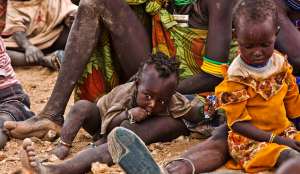 Africa's population growth rate is currently at its highest in the world, at 2.5%. In countries like Zimbabwe, South Sudan, Malawi, Niger, and others, this figure is even higher than 3%. Although the population's explosion rate is slightly decreasing, the natality rate in the region remains too high for Africa's natural resources to serve the entire population and to secure its basic human needs.
The population explosion is associated with the risks of excessive use of natural resources, which leads to their exhaustion. This mainly results in hunger and therefore high mortality, which affects even newborns. Infant mortality is the highest in Africa in the world.
The living conditions of Africans are also affected by the geographical location and climate of the area they inhabit. The worst situation is recorded in the Sub-Saharan area, where human conditions are affected by the predominantly impenetrable natural conditions.
Climate conditions in the African continent are not optimal for rich economic development. The subtropical and tropical zone do not allow, especially on the sandy soils of Africa, to grow sufficient food resources to saturate such a huge number of people.
As mentioned, the enormous problem of Africa is the lack of raw materials that could guarantee a decent living standard for its inhabitants. The most critical of the sources is the supply of drinking water, which is invisible to human life.
In Sub-Saharan Africa, only about half of the people have access to a quality drinking water source. What is very common in developed countries, of course, is a scarce material in Africa. In 2012, up to 43% of people suffering from scarce drinking water came from the Sub-Saharan region.
Desert areas are very poor on water resources. In three African countries, Congo, Mozambique, and Guinea, less than half of their population had access to drinking water supplies. In the other 26 Sub-Saharan African countries, only 50% out of 75% of the population has access to water.
The living standards of people also depend on the mineral richness of the area in which they live. There are 10% of world oil stocks in Africa, primarily in the northern and northeastern parts of the continent. Libya, Algeria, Nigeria, Gabon, and Angola are even member countries of OPEC, an international organization associating oil exporters.
In Africa, there are deposits of other minerals, mainly phosphates, uranium, cobalt, and huge supplies of precious stones and metals such as gold, platinum, diamonds, chromium, manganese, and others.
In spite of such rich raw materials that could produce a significant increase in living standards and develop the African continent, their holdings and mining are mostly in the hands of private companies, and the profits from them are therefore not visible to the population.
Raw materials found in countries with weak economic development do not bring wealth to the state but cause a low diversification of the local economy, which often result in a violent conflict. In addition, international trade and the administration of many African states are subject to huge corruption, which is another problem of their disastrous economic situation.
The gradual population explosion in Africa is an issue which could be a threat to African citizens in the near future since both Europe and America also depend heavily on Africa's resources and always finding ways to take control. The question is what will be left for Africa if their well runs dry? Hunger and famine, of course.