Road Contractors Get Ghc3.5 Billion to Clear Arrears – Minister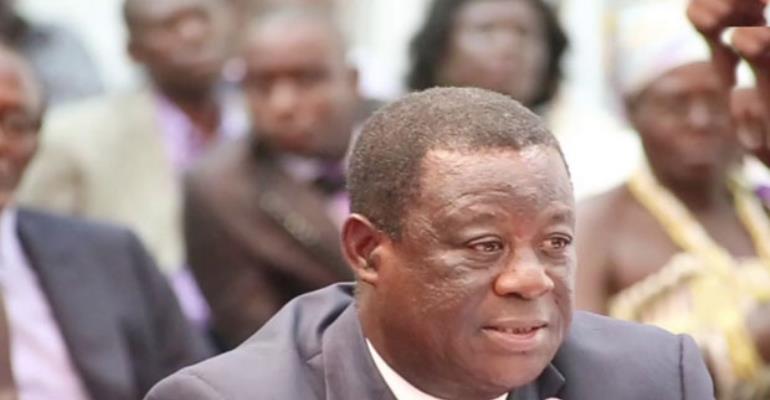 The government has assured that plans are underway to pay all debts it owes road contractors. This comes on the back of repeated lamentations by the Association of Road Contractors which says the situation is collapsing the businesses of its members.
Addressing the press in Accra today, Tuesday, the Minister for Roads and Highways, Kwasi Amoako-Atta, indicated that a disbursement of 3.5 billion Ghana Cedis has been made available to his outfit to settle all its debt.
The Minister also bemoaned the fact that after over 60 years of independence, only 28% of the roads in the country have been paved.
'It is a challenge that as a country, only 28 percent of our road network has been fixed, 61 years after independence. Over the same period, a grand total of Ghc3.58 billion made up of Ghc 2.72billion; representing 57 percent of the road fund and Ghc856 million representing 25 percent of accumulated fund, have been disbursed towards the payment of contractors for works executed, the Minster hinted.
Road contractors still owed over GHC 3.69 billion – Report
The Association of Road Contractors Ghana had earlier bemoaned government's failure to pay its members debts owed them.
A report by the parliamentary committee on roads and transport has shown that the government still owes road contractors more than GHC 3.69 billion for projects financed from the consolidated and roads fund.
Although the government has paid over 2.2 billion of the funds in arrears, the delay in settling the outstanding debt is affecting the construction industry.
Chairman of the Association, Daniel Agro intimated that government is dealing with them unfairly.
"If banks are collapsing because of monies we owe them, what about those of us who owe the monies. A lot of us have died, and most of our equipment is down. I doubt if any action we take against them as a group will pressurise them," he fumed.
Road contracts worth Gh¢6.5bn awarded since 2017 – Amoako Atta
The Minister for Roads and Highways, Kwesi Amoako Atta, in 2018 told Parliament that the Akufo-Addo administration has, since January 2017, awarded road contracts amounting to 6.5 billion Ghana cedis.
This sum covered 258 roads and 20 bridge projects, totaling a little over 3,000 kilometres.
The sector minister indicated that the Ghana Highway Authority, the Department for Feeder Roads and the Department of Urban Roads have been responsible for implementing the projects.
"The ministries through its agencies have awarded 258 different road projects across the nation. This is a little over 3000km and 20 different bridges at an estimated contract cost of Ghc6.5 billion."
'We'll invest heavily in roads, other infrastructure.'
Finance Minister Ken Ofori-Atta, also announced in the 2019 budget statement that the government will be i nvesting massively in road , railways and air transport, from a variety of funding sources.
As it is often done in many budget presentations, the Minister listed a number of roads to be constructed in almost all ten regions of the country.
As usual, many roads that have never been completed despite receiving mention in previous budget presentations were mentioned again.
This pledge came at a time when many road users across the country, have been expressing rage at the government over the state of their roads.
–Citifmonline