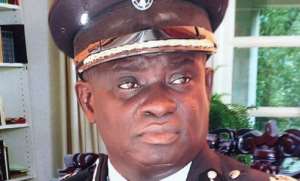 DCOP Francis Ebenezer Doku
Volta Regional Police Commander, DCOP Francis Ebenezer Doku and the Regional Staff Officer, DSP Maister Klay, have been transferred with immediate effect.
DCOP Francis Ebenezer Doku has been transferred to the Police headquarters as director in-charge of Special Duties, while the Staff Officer has been transferred to head the Gambaga District Police in the Northern Region.
Their transfers came on the back of controversies over the recent shooting at Alavanyo in the Hohoe District of the region.
The Regional Police Commander, who took over a few months ago, has dealt with many issues, particularly before, during and after the referendum on the creation of the Oti Region.
In an attempt to brief the media on the shooting incident at Alavanyo, which led to the death of three people and injuries to six others, DCOP Doku shared confidential police intelligence with the media which was leaked to the public.
The confidential information, which bordered on the manufacture of guns in Alavanyo and stockpiling of arms gained public attention.
The report, which was originally made last week, gained public attention last Sunday after 3news allegedly published it.
Prior to his transfer, the Volta Regional Police Command denied reports about the stockpiling of 71 guns at Alavanyo in a rejoinder and stated that the report brought the image of the Ghana Police Service and the Volta Regional Command, in particular, into disrepute.
The rejoinder, signed by DCOP Francis Ebenezer Doku, said the media report by 3news and culled from Ghanaweb and other media houses was fake, scandalous and was part of a calculated attempt to tarnish the image of the regional command.
He, therefore, called for an unqualified apology and immediate withdrawal of the story which was in breach of trust and unethical.
He explained that the report titled, "Gun Manufacturing Base in Alavanyo, Police Fear to Move In" was a rehash of an earlier article.
During the press conference on Tuesday, January, 15, 2019 to update the media on the shooting incident, the police commander assured the media that an independent committee had been set up to investigate the shooting incident and determine the way forward.
After the press conference, the commander answered questions from the media and shared some information with the press based on trust.
He specifically stated that some of his comments were off the record, particularly the one concerning the manufacture and stockpiling of arms.
However, on Wednesday 16th January, 2019, one of the media houses erroneously made a report on the issue.
The command expressed dissatisfaction with 3news, Ghanaweb and Citifmonline, among others for publishing the story.
The Police Command observed that acts that undermine the integrity and image of the Ghana Police Service would not be condoned despite the fact that it wants to maintain a cordial relationship with the media.
The Volta GJA, in a statement signed by its chairman, Anthony Bells Kafui Kanyi, sincerely apologised for the unethical and unprofessional manner in which the story was reported.
Source: Daily Guide